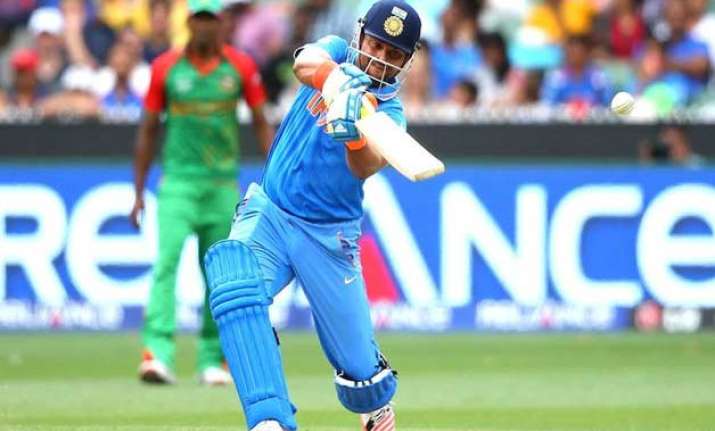 Sydney: Scoreboard of Bangladesh vs India, Quarterfinal 2 of the ICC World Cup 2015 played at Melbourne Cricket Ground (MCG) here Thursday.
Rohit Sharma blasted a strokeful century as defending champions India stormed into the semi-finals of the ICC Cricket World Cup by thrashing a hapless Bangladesh by 109 runs in a lop-sided contest here today.
Courtesy Rohit's spectacular 137 off 126 balls and his rollicking 122-run fourth wicket stand in only 15.5 overs with the belligerent Suresh Raina (65), the 'Men In Blue' were able to post a competitive total despite some tight bowling by Bangladesh for the better part of the Indian innings.
 At one stage India were in a bit of trouble at 115 for three before Rohit and Raina bailed the team out of the tricky situation. In the last 10 overs, India managed to score 97 runs.
India innings: 302/6 in 50 overs
| | | |
| --- | --- | --- |
|  Rohit Sharma |  b Taskin Ahmed |  137 |
|  Shikhar Dhawan |  st Mushfiqur Rahim b Shakib |  30 |
|  Virat Kohli |  c Mushfiqur Rahim b Rubel |  3 |
|  Ajinkya Rahane |  c Shakib b Taskin Ahmed |  19 |
|  Suresh Raina |  c Mushfiqur Rahim b Mortaza |  65 |
|  MS Dhoni |  c Nasir Hossain b Taskin Ahmed |  6 |
|  Ravindra Jadeja |  not out |  23* |
|  Ravichandran Ashwin |  not out |  3* |
|  Extras |  (b 4, lb 7, wd 3, nb 2) |  16 |
|  Total |  for 6 wickets |  302 |
|  Overs |  innings break |  50 |
|  Fall of wickets                             |  1-75 (Dhawan, 16.3 ov), 2-79 (Kohli, 17.5 ov), 3-115 (Rahane, 27.6 ov), 4-237 (Raina, 43.5 ov), 5-273 (Rohit, 46.6 ov), 6-296 (Dhoni, 48.6 ov) |                         |
Did not bat: Mohammed Shami, Umesh Yadav, Mohit Sharma
Bowling
| | | | | |
| --- | --- | --- | --- | --- |
|  Bowler |  Overs |  Maidens |  Runs |  Wickets |
|  Mashrafe Mortaza |  10 |  0 |  69 |  1 |
|  Taskin Ahmed |  10 |  0 |  69 |  3 |
|  Nasir Hossain |  9 |  0 |  35 |  0 |
|  Mahmudullah |  1 |  0 |  4 |  0 |
|  Rubel Hossain |  10 |  0 |  56 |  1 |
|  Shakib Al Hasan |  10 |  0 |  58 |  1 |
Bangladesh innings: 193/10 in 45 overs
| | | |
| --- | --- | --- |
| Tamim Iqbal | c Dhoni b Yadav | 25 |
| Imrul Kayes         | run out (Jadeja/Yadav) | 5 |
| Soumya Sarkar         | c Dhoni b Mohammed Shami | 29 |
| Mahmudullah          | c Dhawan b Mohammed Shami | 21 |
| Shakib Al Hasan | c Mohammed Shami b Jadeja | 10 |
| Mushfiqur Rahim          | c Dhoni b Yadav | 27 |
| Sabbir Rahman |  c Mohammed Shami b Yadav | 30 |
| Nasir Hossain          | c Ashwin b Jadeja | 35 |
| Mashrafe Mortaza          | c Dhoni b MM Sharma | 1 |
| Rubel Hossain        |  c Ashwin b Yadav | 0 |
| Taskin Ahmed         | not out | 0 |
| Extras | (b 1, lb 1, w 8) | 10 |
|  Overs |   | 45 |
|  Total | all out | 193 |
| Fall of wickets  | 1-33 (Tamim Iqbal, 6.3 ov), 2-33 (Imrul Kayes, 6.4 ov), 3-73 (Mahmudullah, 16.6 ov), 4-90 (Soumya Sarkar, 20.4 ov), 5-104 (Shakib Al Hasan, 28.2 ov), 6-139 (Mushfiqur Rahim, 35.1 ov), 7-189 (Nasir Hossain, 42.6 ov), 8-192 (Mashrafe Mortaza, 43.6 ov), 9-193 (Rubel Hossain, 44.4 ov), 10-193 (Sabbir Rahman, 44.6 ov) |   |
Bowling:
| | | | | |
| --- | --- | --- | --- | --- |
| Bowler | Overs | Maidens | Runs | Wickets |
| U Yadav  |  9 | 1 | 31 | 4 |
| Mohammed Shami | 8 | 1 | 37 | 2 |
| MM Sharma | 7 | 0 | 36 | 1 |
| R Ashwin    | 10 | 1 | 30 | 0 |
| S Raina | 3 | 1 | 15 | 0 |
| R Jadeja | 8 | 0 | 42 | 2 |