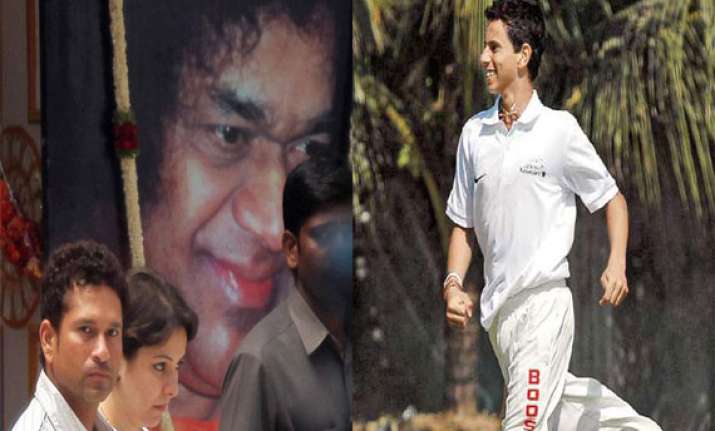 Mumbai: The Sai Baba locket did wonders for Ravi Shastri and Sachin Tendulkar but will it do the the same for  budding cricketer Siddhesh Lad who is the third recipient of this locket.
The locket was given to him by Hemant Waingankar, the former cricket administrator and fast bowler who also gave two lockets to Ravi and Sachin.
There's an interesting piece of trivia that connects Lad and Tendulkar.
Hemant Waingankar presented the boy with a 'Sai Baba locket' a few years ago. "This boy will make it big," Waingankar would tell journalists.
"All these years, I have given away just three lockets. Ravi Shastri was the first recipient and Sachin Tendulkar the second. And now, it's this boy Siddhesh," Waingankar would add.
Lad is aware of this 'story'. And he proudly wears that locket. Waingankar passed away a few weeks ago and Lad wants to prove him right.
Siddhesh Lad is the youngest member of the Mumbai Ranji Trophy squad that will travel to Lahli for the opener against Haryana.
Lad is excited because he would in the company of legend Sachin Tendulkar whom he wants to impress and emulate.
21 year old Siddesh was born on May 23, 1992.
More specifically, he was born 111 days after Sachin Tendulkar scored that coming-of-age hundred in Perth.
Lad was also part of the 15 two seasons ago, but "there was no Sachin sir then". This time, he is "excited" to be part of the same dressing room as his boyhood idol.
"I got a feeling he was watching me bat at the nets," Lad said after the team's practice session at the Wankhede on Tuesday. "But we haven't spoken yet.
"Look, there are two more days of practice. And we'll be in Lahli till the 31st.
"So I have about 10 days. I'm sure I'll get to speak with him," added the right-handed batsman who did exceptionally well for the Mumbai Under-25 side last season.
Lad is the son of Dinesh Lad — the man who spotted
Rohit Sharma
when he was just 12.
And like Sharma, the boy went to Swami Vivekananda International School in Borivli where Lad Sr is still coach.
Lad was chiefly responsible for his school's triumph in the Harris and Giles Shields a few years ago.
So what does he think his conversation with Tendulkar will be about?
"I want to know how he prepares before a match. I've heard stories that he visualises a lot. I want to speak to him in detail," Lad said. His favourite Tendulkar knocks include the ODI double hundred against South Arica and that epic 241* against Australia. "My god, he didn't play a single shot on the off side. I wonder how he did that!"
Asked what he likes most about Tendulkar, Lad said, "His balance. There were times when our U-25 coach, Vilas Godbole, bought newspaper cut outs of Sachin's photos just to show his balance. That is what I like the most about him."
Lad is highly rated in Mumbai circles and had announced himself with a ton on his List A debut against Saurashtra earlier this year.