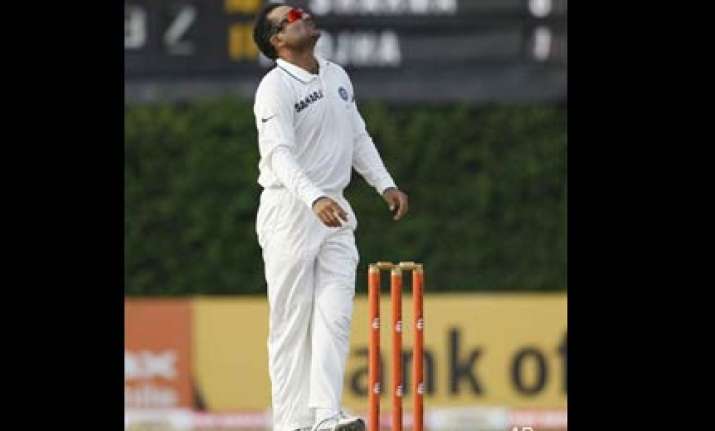 Colombo: Flamboyant opener Virender Sehwag on Thursday said it is imperative for India to get rid of prolific batsmen Kumar Sangakkara and Mahela Jayawardene early tomorrow to stand a chance in the third cricket Test. Sehwag, who cracked his 21st century and also scalped two crucial wickets, was pleased by his performance today.  
"I am very lucky to score hundred and get two wickets. Hopefully we will do well tomorrow also and try to win this Test match," Sehwag told reporters at a press conference.
"We are bowling in good areas, we are getting help from the wicket. In the morning tomorrow, if we get Mahela and Sanga out early, then I think we will be in the game.  
"But we must bowl tight because me must not concede too many runs and yet take wickets regularly. Anything less than 200 should be good," he said. The India vice-captain praised tail-enders Abhimanyu Mithun and Amit Mishra, who forged a crucial 64-run stand, to help India take a slender 11-run first innings lead.  
"At one stage we were 350 for seven and after that, Mithun and Amit Mishra batted really well. They were responsible for us getting the lead, full credit goes to the tailenders," he said. Sehwag, who scored a hundred in the first Test and missed another by one run in the second Test, said he is look forward to continue his redhot form in upcoming series.  
"Touchwood I am in good form and hopefully I will continue in this form against Australia and New Zealand when we play the home series. So I am working on it," he said.  
Asked about his opinion on the Umpires Decision Referral System, Sehwag said, "Sometimes the umpire gives you good decision and sometimes a bad decision. But yes, I would love to have that referral system in Test cricket or in one-day cricket, that is my personal opinion." Sehwag said they wanted to bat the whole day today as the pitch would assist the spinners on the last two days.  
"Our target was to bat full day, that was the idea and we tried. But sometimes you click and sometimes you don't. You can't say that shot selection was not good because everybody was allowed to play their own shots. Nothing wrong with that. "We knew that wicket would turn on the third or fourth day. It's not turning that much but there is a little bit of help for the spinners," he added.  
Sehwag said he didn't change his batting style against Sri Lanka. "I was looking for opportunities to score runs. I don't want to play boring Test cricket. I just play the same against Sri Lanka like I play against other countries.  
"I am not changing anything. The moment I hit two or three boundaries, they spread the field and bowled short outside off-stump," he said. PTI