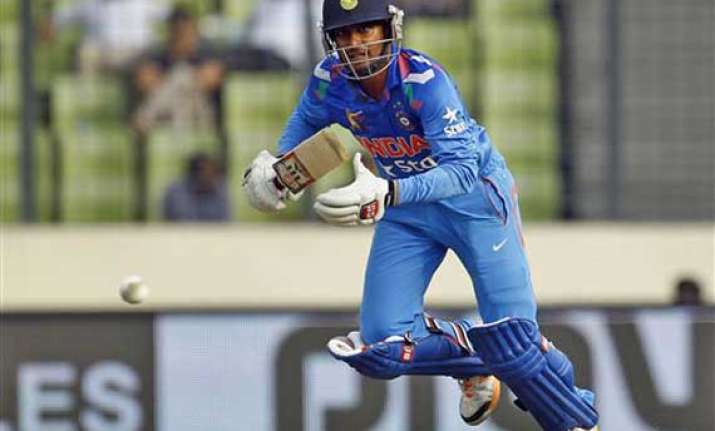 Mirpur: Despite the demoralising defeats against Sri Lanka and Pakistan, India middle order batsman Ambati Rayudu put his weight behind stand-in-skipper Virat Kohli and his teammates, saying that the captain as well as the team is putting in as much effort as they could.
"He has been learning a lot from Dhoni bhai. He has been very proactive and did a fantastic job against Pakistan.Although we have been losing, we are putting in a lot of
effort," Rayudu told reporters on the eve of their last round-robin tie against Afghanistan here.    
"We have been learning a lot as you have seen, the games have been extremely close. We are putting heart into it and that is all we can do as cricketers," he added.    
If Bangladesh can pull off an upset win over the defending champions Pakistan today, India would have a slight chance of making the finals by registering a bonus point
victory over Afghanistan.    
"We would like to go out there tomorrow and win with a bonus point and see what happens. We are just bothered to go and win with a bonus point. We will analyse it after today's match.
"They (Afghanistan) are a very good bowling side as we have seen in the competition. We just need to keep our head down and make sure we get runs," Rayudu said.    
Rayudu struck 58 off 62 balls, as he along with Ravindra Jadeja (52 not out off 49 balls) took India to 245 for eight against Pakistan.    
Defending the modest target, India almost had the game in hands before Shahid Afridi smashed two sixes off Ravichandran Ashwin's bowling in the final over to win it by one wicket.    
"We are doing the best we can, in whatever capacity. It is just we lost the game -- I would say by a metre more than anything else. It's unfortunate we are ending up on the losing side," insisted Rayudu.