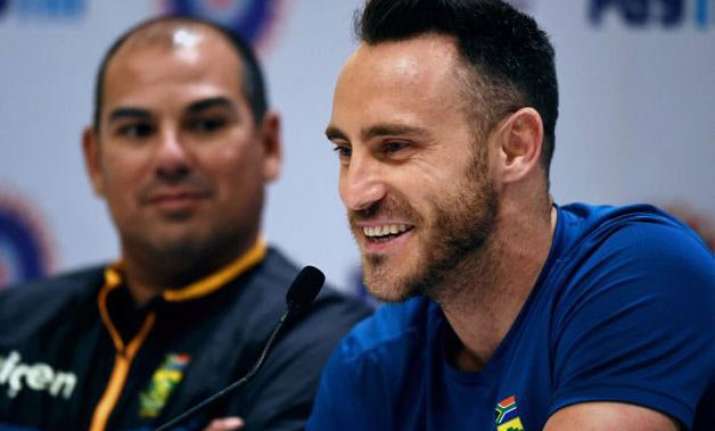 Rajkot: South African batsman Faf du Plessis said on Saturday his team has let some of its momentum pass and allowed India to gain in confidence by committing tactical errors during the Indore ODI.
"That's the most disappointing thing from team perspective. We had India on the ropes -- 2-0 in the T20s and 1-0 in the one-dayers. We got nice momentum behind us, but now we have given them a sniff," du Plessis said on the eve of the third one-day international.
"One-all in the series and they will be confident again winning. But in saying that I don't think both teams have played their best cricket. We have both been firing at around 80%. I think both teams would be inclined to play some better cricket."
Du Plessis said his team allowed Indian captain Mahendra Singh Dhoni to rescue the hosts out of a precarious position with a blistering knock in Indore.
"I think we played well into MS's hands. He had time to bat. He could just knock the ball around and be there at the end on 60 and he could then play an open, aggressive game. We made an error there to make it easy for him," said du Plessis.
Dhoni played a blistering knock of 92 off 86 balls and batted with the lower order to rally his team from 124 for 6 to a fighting total of 247, which his bowlers and fielders did well to defend and guide India to a series-levelling 22-run victory.
"I know MS and he is a fantastic cricketer and like all fantastic cricketers they eventually produce the goods. Good players make it to the top and even under pressure they will come good. In terms of tactics, we played a bit into his hands.
"There was quite a bit of pressure on him. He was biding his time with eight (six) wickets down. If you give a good player like that an opportunity to get into his tempo he will make use of it. MS is a very good hitter and when he's on 50 it's very difficult to bowl to him," added du Plessis.
The South African player said even after that his side had a great chance at 130 for 2 but neither he nor JP Duminy batted through to take the team home.
"Then we were in a great position at 130 for 2 with myself and JP batting, and one of us should have been there to win the game. It was disappointing that we had lots of starts but could not get the team across the line."