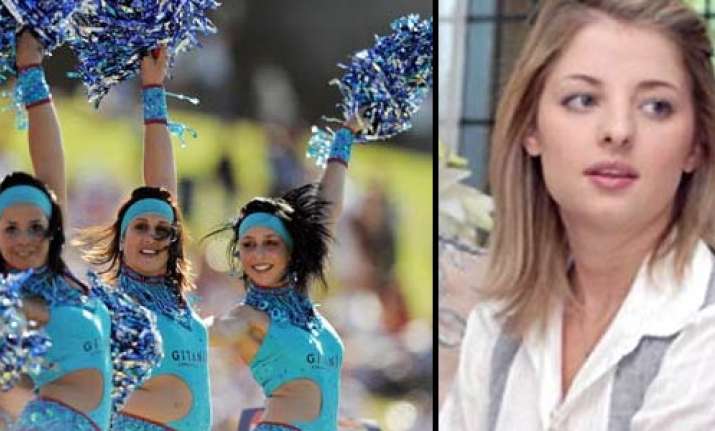 New Delhi, May 11 : "We are practically like walking porn. These cricketers are the most loose and mischievous I have come across. I have a long while still here, so I must remember my tip list: beware of the cricketers!"
 
"The men see your face, then your b***s again, then your a**, then your b***s again, Ol' Graeme Smith will flirt with anyone while his girlfriend walks behind him. The Australian cricketers are naughty, a certain someone played kissing catches with three girls. He told them, 'Come to my room, I want to cuddle'."
 
These are not extracts from any titillating novel, but are the outpourings of a South African cheergirl recently sacked by the IPL franchise Mumbai Indians for making denigrating comments about cricketers on her blog.
 
The Times of India on Wednesday reported that cheerleader Gabriella Pasqualotto has become an internet sensation and mini-celebrity back home after being kicked out of the IPL for secretly blogging on player behaviour in post-match parties.
 
22-year-old Gabriella from Pietermaritzburg was one of the 40 South African cheerleaders in the IPL and was employed by Mumbai Indians.
 
She reportedly wrote about "flirtatious" and "inappropriate" behaviour of the cricketers and even mentioned some of them.
 
South African media reported that her blogs created "privacy concerns" for the players.
 
Gabriella told the press she believed many cheerleaders had intimate relations with cricketers and accused her employers of being "hypocritical".
 
Reports suggest she was sacked after a cricketer and another cheerleader complained to the IPL chairperson.
 
"On Tuesday last week I was sent home as if I was a criminal. I was treated as if I had taken drugs or done something awful and I was never offered any opportunity to give my side of the story", Gabriella told the "Witness".
 
"It's a joke. There are cameras watching what they (the players) got up to. The guys treated us like pieces of meat. We Couldn't go anywhere without the crowds mobbing us and many of the girls did not behave. But nothing I wrote was directed at any one person. I think the cricketers who complaned had a guilty conscience."
 
Gabriella initially began to tweet comments about her experiences at the after-parties, and was then approached by a website to write a blod. After two posts created an internet sensation, she was summarily sacked.
 
Already, support for Pasqualotto has been gathering steam on Twitter, forcing Cricket South Africa media officer Michael Owen-Smith to state that SA cricketers were expected to adhere to the board's code of conduct.
 
However, Gabriella was all praise for a few Indian players: "The few Indian players we have met, such as MS Dhoni and Rohit Sharma have been very polite and keep to themselves in the dark corners. Hotshots like Tendulkar with families at home are never present. The likes of Jonty Rhodes and Albie Morkel are notorious for having a good time with friends!"
 
Pasqualotto, who lost a month's earning, around 8,000 rand (Rs 53,000) now says, "People think you are like handmaidens to the cricket gods, and I'm thrown out for a silly blog."