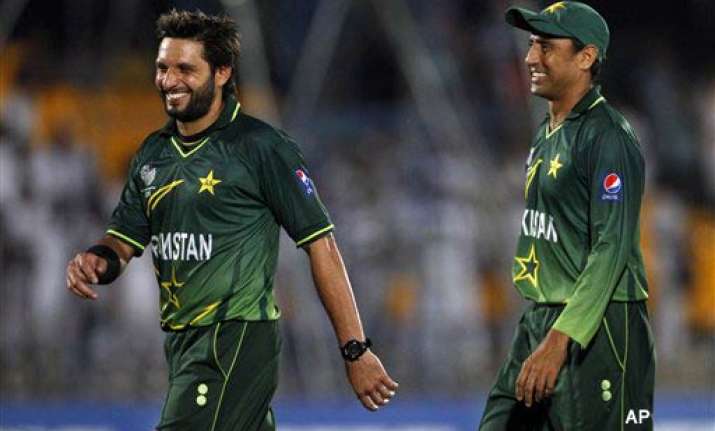 Hambantota (Sri Lanka), Feb 23: Pakistan defeated Kenya comfortably in their first match of the World Cup here today but skipper Shahid Afridi said his side will have to play with lot more energy if they desire to beat mighty Sri Lanka in front of their home crowd on Saturday.
Pakistan opened their World Cup campaign with a thumping 205 runs win over unimpressive Kenya in group A but Afridi said they cannot afford to relax at any point of the tournament.
"It's a good start but we shouldn't be 100 per cent satisfied. There is a lot of work ahead of us still. Good teams are coming up but there are positive points from this match for the next games," he said in the post-match press conference.
Asked about the tough encounter against Sri Lanka in Colombo on Saturday, Afridi said, "It will be a good game. If we bowl well, bat well, we will go with positive body language in the next game. We are ready, this game is gone, that will be a new day and new game, we will have to play with more energy."
"We know how important the next game is and Sri Lanka is the best team especially in their own conditions. We will go in with the same strength and deliver as best as we can."He was of the view that inspite of home fans backing Sri Lanka, both the teams have equal knowledge of the conditions.
"I think subcontinent conditions for Asian teams are equal. Home crowd advantage they will have but if we put together this kind of batting partnerships and bowling in good areas, then it should be a good match. I am very confident as a captain," Afridi insisted.
Asked about Sri Lanka's positive going into Saturday's match, he added, "Home advantage will be main factor. They are playing as a unit as well and that is key behind their success."The last match Sri Lanka played their fast bowlers did really well and they have a very good team combination.
They've got good new guys in the side as well. We will have to play with our full strength and to win against them we have to give more than 100 per cent effort." PTI