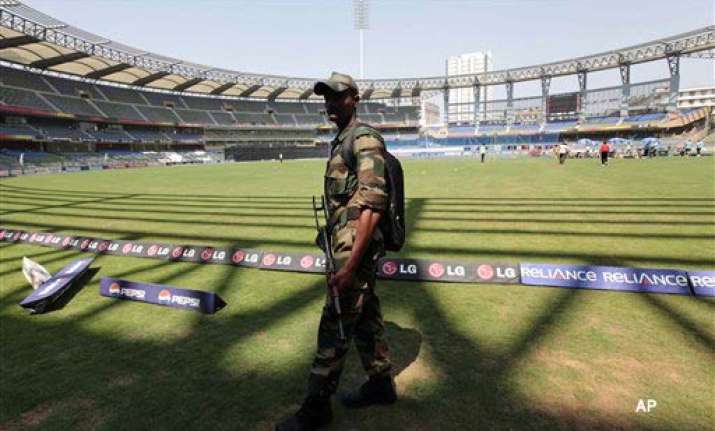 Mumbai, April 1 : As this metropolis is now in the grip of cricket fever, fans are willing to pay a King's ransom for a ticket in the blck market, reports Times of India.Fans are willing to shell out Rs 1.25 lakh for a ticket in the West Avenue stand, the actual price of which is Rs 37,500, says the report. 

Blackmarketeers are making huge profits by selling tickets for the World Cup final—where India and Sri Lanka will fight for the trophy at Wankhede Stadium on Saturday—at nearly 10 times the actual cost. Fans insist that the tickets are "worth their weight in gold".Prices in the black market shot up dramatically on Wednesday night when India defeated Pakistan in the semi-final at Mohali. 

According to sources, the cheapest ticket in the east-west stand, which is priced at Rs 1,500, is selling for nothing less than Rs 18,000. 

The Rs 5,000 north-stand ticket is priced in the black market at Rs 36,000. The 'Holy Grail' are the VIP and VVIP tickets, said one source, who insisted that there are two such types of seats on sale for Rs 2.5 lakh. "Even politicians are jostling for these tickets. Most of these tickets are being sold in the black by people who were initially involved in betting" said the source.

It's not only local politicians and businessmen who have allegedly joined the hunt for a World Cup final ticket. College students, too, form a large chunk of buyers.
A student from N M College said: "I bought a ticket in the Sachin Tendulkar stand worth Rs 15,000 for Rs 35,000 last Sunday."He got it cheaply as India had at the time not yet bagged a place in the final game. The student he said his faith in the Indian team helped him get a good deal. 

"On Thursday, my friends wanted to purchase the cheapest tickets in the east-west stands. They cost only Rs 1,500, but the agent is asking for Rs 20,000. In fact, the agent had only one ticket for sale." The same ticket that the N M student purchased for Rs 35,000 on Sunday now costs Rs 85,000. A marketing executive who describes himself as a diehard cricket fan said he willingly shelled out the amount for a place in the stadium.

On a popular online auction site, a seller claimed to have two tickets for seats at the "fantastic Vithal Divecha pavilion 'B'. The bid for each ticket started at US $2,500.Police sources say that most of the blackmarketeers were initially people involved in the betting racket.

"Once we started a drive against bookies, most fled to the outskirts of the city. Those who remained behind are making a killing selling tickets in the black," said a police official who did not wish to be named.Tracking them down is not easy. Four such blackmarketeers who operate in the western suburbs told TOI that they never expected to make such profits. 

One such individual who calls himself Rajubhai said: "If I had known I was going to make so much money, I would have purchased more tickets when bookings opened online."Police officials  said their priority at the moment is not to crack down on illegal ticket, but more on ensuring a foolproof security.