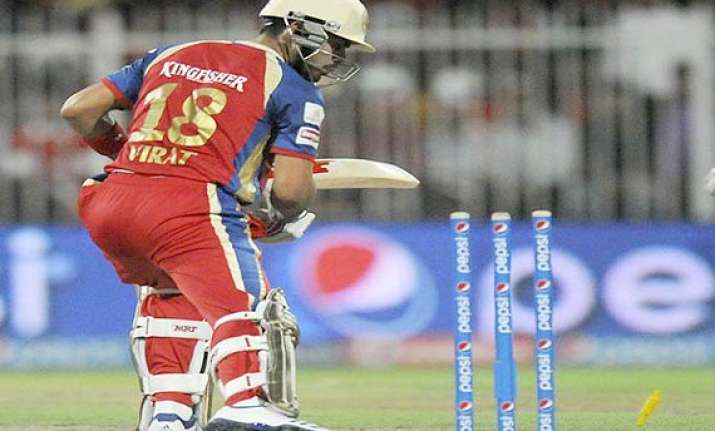 New Delhi:  One of the most successful openers of team India  Sourav Ganguly feels that Virat Kohli should take it easy while leading the Royal Challengers Bangalore .
Under Kohli's captaincy, RCB have lost six out of the 10 games and one of India's finest captain feels that it has got to do with the kind of pressure Virat is taking on himself.
Ganguly said "Probably, it's time he (Kohli) needs to sit back and think about his captaincy. I had a word with Gautam Gambhir seven-eight days back asking him to look at captaincy in a different way and I feel it is time for Virat also to look at captaincy in a different way," Ganguly said.
"Captaincy is directly related to how you peform. Look at Gautam Gambhir's performance. Look at the first three matches and the last three matches when he has scored runs
"T20 is a game where an innings ends in an hour and 15 minutes. In any case, you can't make too many changes as you can in a Test match. For a young captain like Kohli, he should focus on his batting as too much planning can get you mentally tired and I can see that happening with Kohli.  
While rating the various captains across the eight teams, Ganguly rated Mahendra Singh Dhoni as the undisputed No 1 in this format.
"I was very happy with
Wriddhiman Saha
's performance as it's not easy to live under the big shadow of Dhoni year after year. That speaks about Wriddhiman's temperament. Also I would expect the selectors to keep a close watch on Manan Vohra. He looks a special talent in the manner he pulled
Dale Steyn
in-front of square."