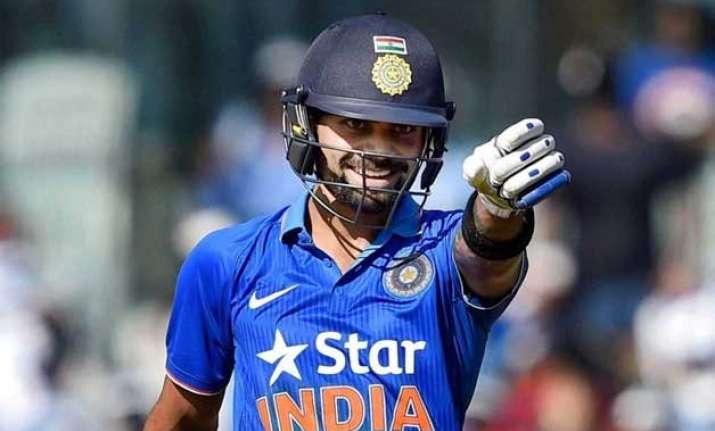 Dubai: Indian batsman Virat Kohli has shot to the top of the rankings as the world's number one T20 batsman following a spectacular performance in the recently concluded India-Australia T20 series.
Virat gained 47 ratings points on the back of three consecutive half-centuries (90, 59, 50) in the series, replacing Australian batsman Aaron Finch at the No. 1 spot in the International Cricket Council's (ICC) T20 batsmen ranking. 
Kohli's total ratings points now stand at 892 while Finch has 868 points. England's Alex Hales is third with 795 points.
India's Suresh Raina moved up three places to 13th, while opener Rohit Sharma also moved up four places to the 16th spot, after their impressive form in the series. Yuvraj Singh claimed the 20th position.
Australian all-rounder Shane Watson, who scored an unbeaten 124 in the third T20 against India, moved up five places to the 12th spot among ICC's best T20 batsmen. Meanwhile, Australia's left-handed opener David Warner dropped six spots to 18th.
West Indies spinner Sunil Narine, who is currently banned by the ICC due to an illegal bowling action, retained the top spot in the bowling rankings with 773 points, ahead of fellow Windies slow bowler Samuel Badree (751).
India's off-spinner Ravichandran Ashwin was third with 692 points. Left-armer spinner Ravindra Jadeja was 18th.
India's 3-0 victory against Australia also helped them reach the No.1 spot in the world, while Australia slid to the eighth spot.