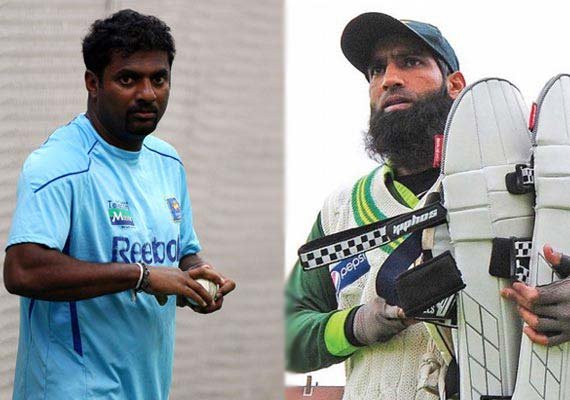 Karachi: Former Pakistan captain Muhammad Yousuf today said that Sri Lankan legend and world's highest wicket-taker in Test cricket Muttiah Muraliatharan would have never been allowed to play top-flight cricket had current ICC rules on chucking would have been in place during their time.
"Murali straightened his elbow well past the current allowed limit of 15 degrees but he was fortunate to play top-flight cricket because at that time the ICC protocol was different," Yousuf said today.
"I played him a lot of times and I know how he exceeded the 15-degree limit. With each ball, one could see him speed up his deliveries and I told him myself "You are lucky to be playing," Yousuf told Geo News channel.
The veteran of 90 Tests and 288 ODIs feels once former Pakistan opener Saeed Anwar played Murali very comfortably, the Lankan off-spinner broke the allowed limit brazenly.
"You could hear the sound of speed as the ball came out of his hand. Under the old protocol, bowlers who straightened their arm beyond 15 degrees like Murali, were allowed to play on medical grounds but now things are different and I support these changes."
Yousuf said he supported the new protocol enforced by the ICC. Asked if he supported the line taken by former fast bowler, Shoaib Akhtar that the PCB should use legal means to challenge the new protocol which had affected their bowlers the most, Yousuf disagreed.
"If the PCB wants to do it they can do it but I don't think it is going to make a difference I don't think the ICC will change their stance now. Their CEO has made this very clear and overall I think there is lot of support for these new protocols while testing suspect bowlers," he added.