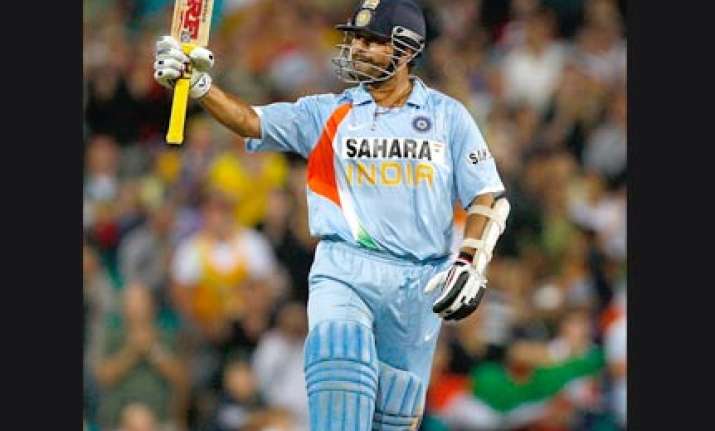 Batting great Sachin Tendulkar on Tuesday  gave a thumbs-up to the Ferozeshah Kotla pitch -- currently serving a one-year international ban -- ahead of the Indian Premier League match between Mumbai Indians and Delhi Daredevils here tomorrow. "It is a good track, a typical Delhi wicket which looks bare with no grass cover on it," Tendulkar told reporters. "So it looks like a good wicket. At this stage there are no apprehensions," the Mumbai Indians skipper said.
The Kotla pitch was slapped a one-year international ban after the December 27 India-Sri Lanka ODI here was abandoned because of a dangerous and unfit pitch.
Talking about the IPL campaign so far, Tendulkar said the Mumbai outfit was high on confidence and they would look to keep the momentum going with as many victories possible. 
"The team's confidence is very high. We had a good preparation. We are very happy to have won the first match. It has boosted the confidence of the team and we are in good form," he said. 
"Momentum is a key factor here. To start on a good note is so important. There is no time to think and 20 overs just fly by in this format. So in every match momentum will count and we will look to get as many victories as possible," he added. 
Asked if he is a little concerned about the bowling of the team, Tendulkar said, "Not really. Harbhajan (Singh) was off the field (in the match against Rajasthan Royals) and those four overs had to be covered up by someone else." Yusuf Pathan's blistering century in that match gave Mumbai Indians some torrid times but Tendulkar said things could have been different had Harbhajan been there. 
"I mean in this format you will get such innings. Of course Yusuf's one was an exceptional one. But we have to keep one thing in mind that Harbhajan was not there for four overs and four overs mean a lot," he explained. 
Tendulkar was seen having an extended session with last match hero Saurabh Tiwary during the practice yesterday and the senior player said it is just a way of working together as a team.
"It is just a way of working together as a team, nothing more than that. I would like to help the youngsters in the team and share my experience with them like any other senior player will do in any other team," he said. 
"It is a two-way process. It should not happen that I'm pressuring anybody. I feel if some player has to develop something new and he comes to you, players should help each other. It's not that only the senior players can help. Even a junior players view is as much important," he said. "In my career I have learnt that as much as you talk about cricket you learn about the game and not only seniors, junior players' views also matters," he added. PTI