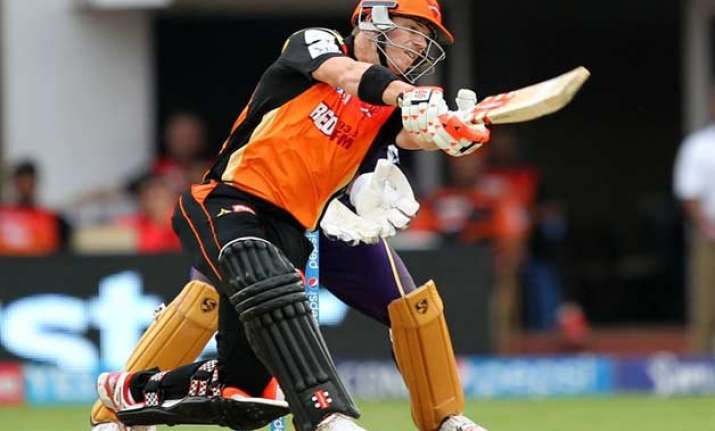 Visakhapatnam: Scoreboard of Sunrisers Hyderabad vs Kolkata Knight Riders, Match 19 of Indian Premier League 2015 played at Dr. Y.S. Rajasekhara Reddy ACA-VDCA Cricket Stadium here on Wednesday.
Skipper David Warner led from the front with a blistering 91 while Shikhar Dhawan scored a gritty 54 as Sunrisers Hyderabad defeated defending champions Kolkata knight Riders by 16 runs via Duckworth-Lewis method in a rain-truncated match.
Courtesy Warner's 55-ball knock, Sunrisers scored a decent 176 for four in 20 overs but due to an hour long rain delay, the revised target for KKR turned out to be 118 from 12 overs. The Shah Rukh Khan co-owned franchise could only manage 101 for four in 12 overs.
Praveen (1/18 from 2 overs) and Bhuvneshwar (1/24), who gave away just 5 and 7 runs respectively in the 10th and 11th over as KKR were left to score 25 off the last over.
Robin Uthappa hit a few audacious shots en route his 21-ball-34 while Andre Russell (19 from 10 balls) again showed his big hitting prowess with a couple of huge sixes but that was just now enough for the defending champions as they fell short by 16 runs.
Manish Pandey and Suryakumar Yadav remain unbeaten on 33 and 2 respectively.
Sunrisers Hyderabad innings: 177/4 in 20 overs
| | | |
| --- | --- | --- |
|  Shikhar Dhawan |  c Botha b Russell |  54 |
|  David Warner |  c Uthappa b Morkel |  91 |
|  Ravi Bopara |  c Botha b Morkel |  2 |
|  Naman Ojha |  b Umesh Yadav |  18 |
|  Moises Henriques |  not out |  7* |
|  Lokesh Rahul |  not out |  1* |
|  Extras |  (b 1, lb 1, wd 1, nb 1) |  4 |
|  Total |  for 4 wickets |  177 |
|  Overs |  innings break |  20 |
|  Fall of wickets                  |  1-130 (Warner, 14.2 ov), 2-143 (Bopara, 16.1 ov), 3-162 (Dhawan, 18.3 ov), 4-170 (Ojha, 19.2 ov) |                       |
Did not bat: Karn Sharma, Bipul Sharma, Praveen Kumar, Bhuvneshwar Kumar, Dale Steyn
Bowling
| | | | | |
| --- | --- | --- | --- | --- |
|  Bowler |  Overs |  Maidens |  Runs |  Wickets |
|  Johan Botha |  4 |  0 |  26 |  0 |
|  Morne Morkel |  4 |  0 |  31 |  2 |
|  Sunil Narine |  4 |  0 |  38 |  0 |
|  Yusuf Pathan |  2 |  0 |  18 |  0 |
|  Umesh Yadav |  4 |  0 |  41 |  1 |
|  Piyush Chawla |  1 |  0 |  15 |  0 |
|  Andre Russell |  1 |  0 |  6 |  1 |
Kolkata Knight Riders innings: 101/4 in 12 overs
(target 118 from 12 overs)
| | | |
| --- | --- | --- |
|  Robin Uthappa |  c Praveen Kumar b Henriques |  34 |
|  Gautam Gambhir |  b Praveen Kumar |  4 |
|  Manish Pandey |  not out |  33* |
|  Andre Russell |  c Steyn b Bopara |  19 |
|  Yusuf Pathan |  c Karn Sharma b Bhuvneshwar Kumar |  6 |
|  Suryakumar Yadav |  not out |  2* |
|  Extras |  (wd 3) |  3 |
|  Total |  for 4 wickets |  101 |
|  Overs |  match over |  12 |
|  Fall of wickets                                |  1-35 (Gambhir, 3.4 ov), 2-49 (Uthappa, 5.5 ov), 3-80 (Russell, 8.5 ov), 4-94 (Pathan, 11.2 ov) |                        |
Did not bat: Johan Botha, Piyush Chawla, Sunil Narine, Morne Morkel, Umesh Yadav
Bowling
| | | | | |
| --- | --- | --- | --- | --- |
|  Bowler |  Overs |  Maidens |  Runs |  Wickets |
|  Dale Steyn |  3 |  0 |  24 |  0 |
|  Bhuvneshwar Kumar |  3 |  0 |  24 |  1 |
|  Praveen Kumar |  2 |  0 |  18 |  1 |
|  Karn Sharma |  1 |  0 |  5 |  0 |
|  Moises Henriques |  1 |  0 |  9 |  1 |
|  Bipul Sharma |  1 |  0 |  14 |  0 |
|  Ravi Bopara |  1 |  0 |  7 |  1 |