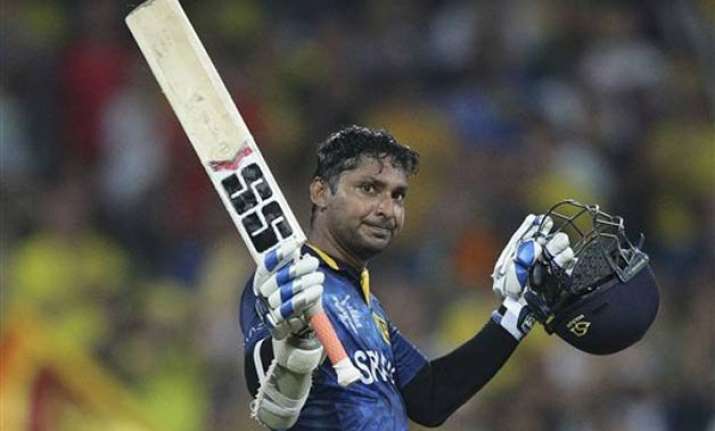 New Delhi: Sri Lanka's veteran wicketkeeper batsman Kumar Sangakkara has decided to quit ODI cricket at a time when he is in the form of his life.
No matter South Africa skipper AB de Villiers believes his side is the best team in the World Cup 2015. He may have scored a record breaking 162 against West Indies, or Chris Gayle might have scored a fastest double hundred in ODI cricket and many other batting records might have been broken but Sri Lanka's vice captain Kumar Sangakkara is quietly performing and breaking records on his own.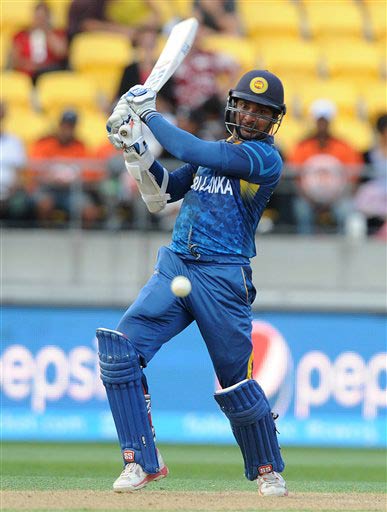 What makes it special for the 37-year old Sangakkara is that he achieved the feat which even the cricketing god Sachin Tendulkar was not able to get.  As soon as he broke into the side at the age of 22, while a law student, it was apparent that Kumar Sangakkara was destined for more than just batting stardom.
His record-setting performance at the Cricket World Cup just might help Sri Lanka move past its runner-up status at the last two tournaments.
We bring you some stats that will prove Sanga will end his ODI career in the form of his life: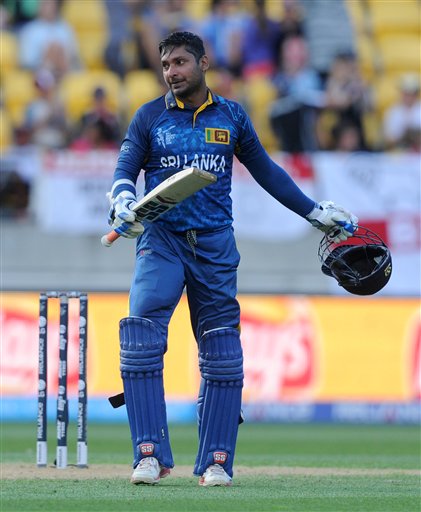 Sangakkara, who scored 124 runs on Wednesday against Scotland, became the first batsman to score hundreds in four consecutive one-day internationals. He combined with Tillakaratne Dilshan (104) in a 195-run, second-wicket partnership as Sri Lanka posted 363-9 on the way to a 148-run win in a Pool A game.
He has now surpassed Mark Waugh, Matthew Hayden and Sourav Ganguly, each having scored three centuries in a World Cup before.
He also became the first visiting player to score five ODI centuries in Australia and the first cricketer to score four back to back centuries in ongoing world cup and three of them with a strike rate of above 100.
Sangakkara has hit a total of five centuries in World Cups, four being in this edition alone and is right behind Tendulkar with 6 centuries in World Cup history.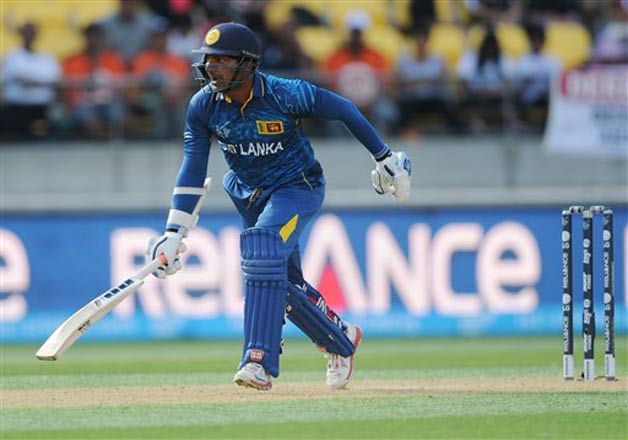 Recently he became only the second cricketer to cross the 14,000 ODI runs landmark after Indian batting maestro Sachin Tendulkar.
Sangakkara is third on the all-time aggregate in the World Cups having 1,487 runs in four World Cups. He is right behind Sachin Tendulkar and Ricky Ponting with 2,278 and 1,743 runs respectively.
After 6 matches so far in the tournament, he has already amassed 496 runs at an astonishing average of 124 highest than the likes of Tendulkar, Ponting, Hayden, Jayawardne in a single edition of World Cup.
Sanga is currently at no. 8 and with couple of matches still left, he has the great opportunity to surpass another record.
Sachin Tendulkar sits at the top spot in the list with a total of 673 runs in 2003 WC followed by Mathew Hayden's 659 runs in 2007 and Jaywardene's 548 runs in 2007 as well.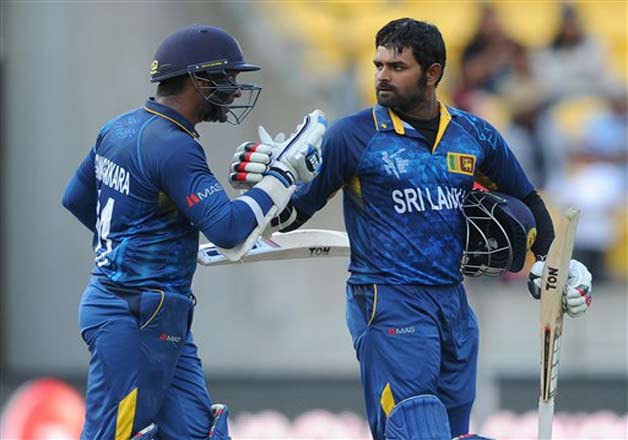 Sangakkara has been a part of three of the top ten biggest partnerships in this World Cup, two of those three being over 200. He shared 212 runs with Lahiru Thirimanne and took Sri Lanka home comfortably against England followed by 210 and 195 runs stand with Tillakaratne Dilshan against Bangladesh and Scotland respectively.
Sangakkara also has the most runs, most number of 50s and joint most hundreds since the turn of the century. He averages 40.73 against the top eight teams since 2000. Only AB de Villiers (54.90), Mahendra Singh Dhoni (50.11), Virat Kohli (49.57) and Tendulkar (46.1) are above him.
He has the most 54 boundaries to his name in the ongoing World Cup by a fair margin of eight followed by his teammate Dilshan with 38 fours.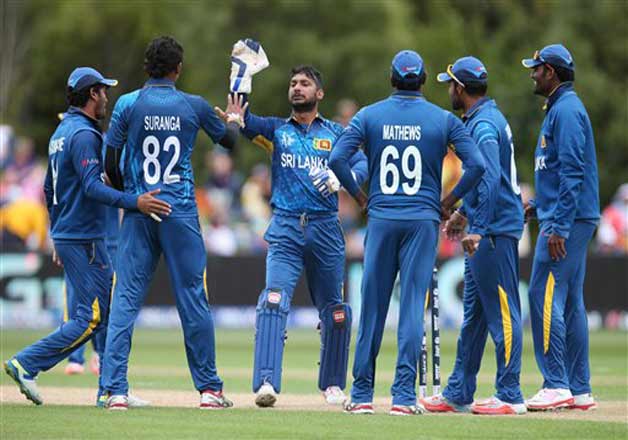 A feat that has been lost amidst Sangakkara's four consecutive World Cup centuries is a non-batting record that Sangakkara made is that he now has the most 54 dismissals by a wicket-keeper in World Cup history followed by Adam Gilchrist with 52.
While Sanga announced that he will not consider his retirement after the World Cup, his teammates are really upset with the decision. Sri Lanka captain Angelo Mathews said Wednesday that he has gone down on his knees to beg record-breaking batsman Kumar Sangakkara not to quit.
Despite his form, Sangakkara, who has played 403 ODIs and made over 14,000 runs, insisted that there will be no going back on his decision.
"I've been batting and keeping for a long time, it's getting harder and the joints are creaking and aching, but I consider myself lucky to be part of a great team," he said.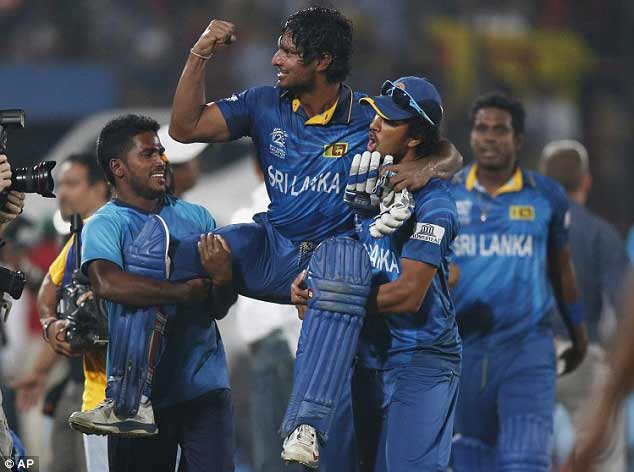 Sangakkara retired from T20 international cricket after winning the world championship last year. He would like to repeat the feat and his ODI career with a winning note as well.
He has also announced his retirement from test cricket after India series in August 2015.
Apart from Sangakkara, Jayawardene and Dilshan are also playing their last World Cup and it is sure that without this batting trio, Sri Lankan cricket team will never be the same.
Sri Lanka are already into the quarterfinals in this World Cup are likely to play West Indies, Pakistan or Ireland.