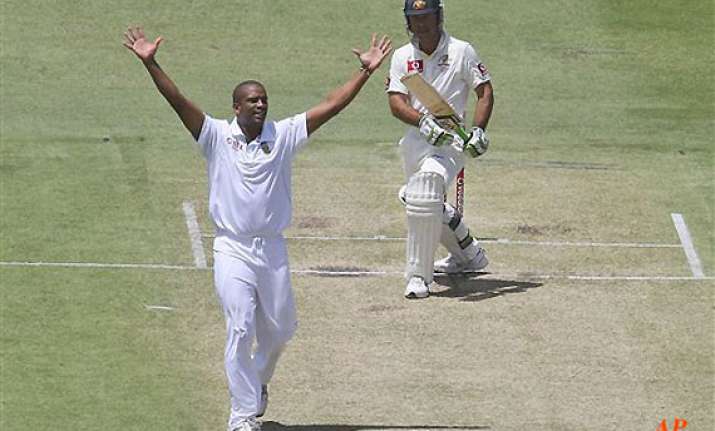 Perth, Dec 3: South Africa won the third test by 309 runs Monday to clinch back-to-back series in Australia, retain the No. 1 ranking and end Ricky Ponting's career with a big defeat.
Robin Peterson dismissed Ponting (8) and skipper Michael Clarke (44) as South Africa finished off the Perth test with a day to spare after battling to salvage draws in the first two tests in Brisbane and Adelaide.
"Probably not the way I wanted to finish with that result and my own performance, but it's a special thing to play one test match for Australia so I've been lucky to play as many as I have," Ponting said. "I've cherished every moment, but It was always going to end at some stage I guess."
Australia, set an unlikely target of 632 to win, was out for 322 after a late cameo by No. 10 Mitch Starc, who ended unbeaten on 68 and shared an 87-run last wicket stand with Nathan Lyon (31).
"We fought it out with the No. 1 test team in the world and it was never going to be easy," Clarke said.
"This series was never going to be given to either side. ... It was just unfortunate we couldn't get over the line in the first two test matches, and I think in this test we got outplayed."
After resuming at 40-0, Australia's day started in the worst possible way when David Warner (29) was removed by Vernon Philander on the second ball without addition to the overnight score.
Morne Morkel removed Shane Watson (25), also caught at slip by Graeme Smith, to bring Ponting to the crease at 11:47 a.m.
South African lined up in a guard of honor as Australia's all-time leading scorer made his way to the pitch, stopping momentarily to shake hands with Proteas captain Graeme Smith, with Australia at 81-2.
"It was a bit unexpected," Ponting said. "I must admit I was a little bit embarrassed and wished it didn't happen that way, but an amazing gesture by Graeme and the South African team."
The 37-year-old Ponting got off the mark with a trademark pull to the boundary off Morkel and drove another boundary in his only other scoring shot of a 23-ball innings, but was caught by Jacques Kallis trying to cut Peterson at 12:27 p.m. -- a few balls before lunch.
"We tried our best and fought as hard as we could throughout this series, unfortunately we got beaten by the better team. And what a sad day for Australia cricket to lose such a great player," Clarke said of Ponting.
Every South African player ran to shake Ponting's hand as the ex-Australia skipper left the WACA arena, where his test career began in 1995. The scoreboard flashed up a message "Thanks Ricky" and the crowd stood to applaud him. Clarke gave Ponting a pat on the back as they crossed in the tunnel between the pavilion and field, then went out and hit the next two balls from Peterson to the boundary to be not out 8 at the interval.
"He's one of the greatest players I've ever been lucky enough to play with, and I think people who've been fortunate enough to play against him say exactly the same thing," Clarke said.
"The team wishes him all the best for the future."
Clarke and Hussey had put on 228 and 272 in the first two drawn tests and were starting to get settled in during the middle session.
Clarke scored double centuries in the first two matches but when he was out and Hussey went soon after, the end was only a matter of time.
Starc combined with John Hastings (20) in a 31-run ninth-wicket partnership that ensured Australia avoided its second-worst ever defeat in terms of runs -- a 408-run loss to the West Indies in 1980 -- and his entertaining last wicket stand with Lyon that only delayed the inevitable.
Ponting announced on the eve of the series-deciding test against South Africa that it would be his last international match, and his departure overshadowed the early stages of the match. He now shares the Australian record of 168 test caps with Steve Waugh.
The former test captain owns the record for most test runs by an Australian with 13,378 at an average of just under 52 in 287 innings. Only Sachin Tendulkar has scored more runs in the test arena.
"I haven't really had a chance to reflect much yet," Ponting said of his long career and its milestones. "I've been too wrapped up in the moment of this test match. But I'm sure over a few beers tonight with the boys a lot of those things come back."