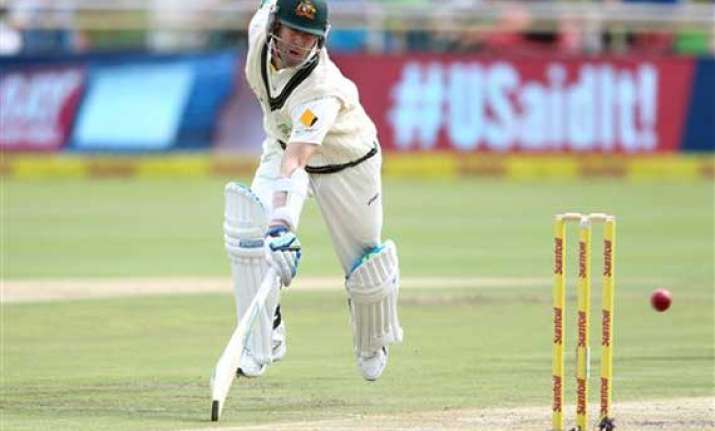 Cape Town, South Africa: Scoreboard Sunday at stumps on day two of the third test between South Africa and Australia at Newlands:
Australia 1st innings
(Overnight 331-3)
Chris Rogers c Smith b Steyn 25  
David Warner c de Villiers b Duminy 135  
Alex Doolan c Steyn b Philander 20  
Michael Clarke not out 161  
Steve Smith b Elgar 84  
Shane Watson c Amla b Duminy 40 
Brad Haddin c Amla b Duminy 13  
Mitchell Johnson c de Villiers b Duminy 0  
Ryan Harris not out 4  
Extras: (6w, 6nb) 12 
TOTAL: (for 7 wickets) 494  
Overs: 127.4.  
Fall of wickets: 1-65, 2-138, 3-217, 4-401, 5-456, 6-489, 7-489.  
Still to bat: James Pattinson, Nathan Lyon.  
Bowling: Dale Steyn 10.1-0-44-1, Vernon Philander 26.4-2-116-1 (1nb), Morne Morkel 23.5-2-94-0 (4nb, 2w), J.P. Duminy 17-0-73-4, Kyle Abbott 28-11-68-0 (1nb), Dean Elgar 22-0-99-1.  
Toss: Australia.