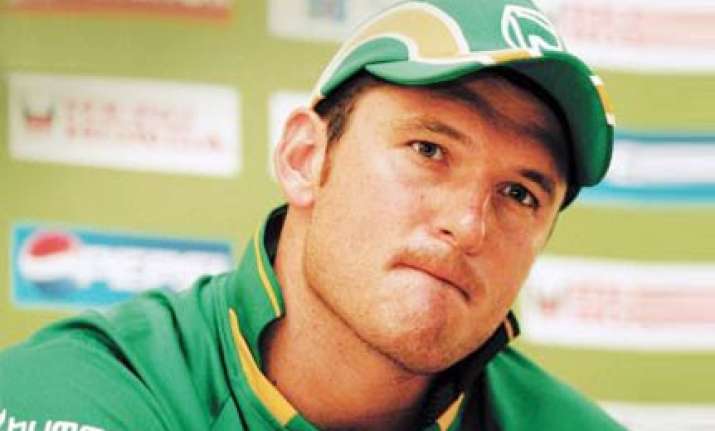 Johannesburg: South Africa's Graeme Smith on Wednesday announced his retirement from Twenty20 captaincy with immediate effect and said he would also step down as ODI skipper after next year's World Cup in the sub-continent.
The left-handed opener, however, said that he will continue to lead the South African Test squad and will be available for selection for the national team in all three formats of the game.
"After a lot of thought and consideration I have decided to step down from the captaincy of the Standard Bank ODI squad at the conclusion of the 2011 ICC World Cup campaign. I will also stand down as captain of the Standard Bank Pro20 International squad with immediate effect," Smith was quoted as saying in the Cricket South Africa website.
"There are several reasons why I have made this important career decision. I am going into my ninth season of international cricket - eight of which have been as captain. It is my intention to play for another five or six years and I know in my heart that I can only do that if I give up some of my current responsibilities," he said.
The 29-year-old batsman said the current team has many cricketers who are capable of taking up the responsibility of captaincy.
"I believe we have now reached the stage where there are several players emerging within the squad to take on leadership roles. I feel that making the announcement now will provide the time and development necessary to ensure a smooth transition," Smith said.
"I remain passionate about the captaincy of the Proteas and after the World Cup I will continue to lead the Test team with pride and will continue to be available for selection in all formats of the game," he added.
Smith also said that he will utilise his learnings and experience through his own leadership foundation which he plans to set up soon.
"I would also like to take this opportunity to announce that I will soon be launching my own leadership foundation, an initiative which I feel very passionate about," he said.
"The purpose of the Graeme Smith Foundation is to share the skills which I have acquired through my cricket career to develop leadership programmes for young South Africans in order for them to have a wider impact in their communities," Smith added.
CSA chief executive Gerald Majola welcomed Smith's decision and said that it is in the best interest of both the left-hander and the national team.
"I have seen Graeme (Smith) develop as a cricketer over the past decade or so, and I am proud of how far he has come. He took over the Proteas' captaincy at a young age, and has faced incredible challenges, which he has overcome.
"I support whatever decision he makes, because I know that he is doing what is best for him as a cricketer, and what is best for South African cricket. Graeme still has a lot to achieve in his cricket career and CSA backs him 100 percent.
"His decision to step down from International Pro20 captaincy with immediate effect, and the ODI captaincy at the end of the 2011 Cricket World Cup, opens the door for other young stars to make a name for themselves as leaders," Majola said.