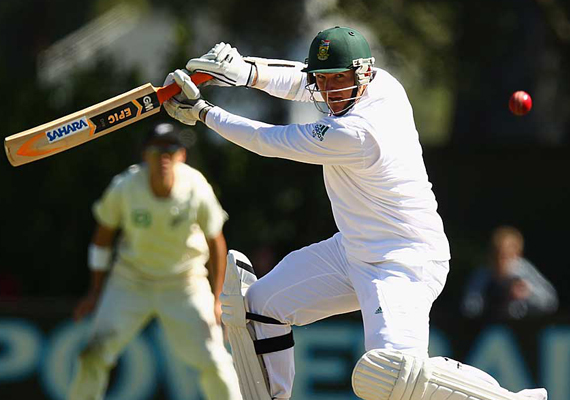 Dunedin (New Zealand), Mar 9: Graeme Smith made 115 and Jacques Kallis and unbeaten 107 in a 200-run partnership that wrested control of the first cricket test from New Zealand on Friday.

South Africa was 268-3 at stumps on the third day with a lead of 233 runs.

Smith's 23rd test century and Kallis's 42nd led South Africa from crisis to comfort, allowing the Proteas to break a deadlock that had existed for most of the first two days.

South Africa trailed by 35 runs after the first innings and was 47-2, leading by only 12 runs, when veterans Smith and Kallis came together on Friday morning. They stayed together for the next two and a half sessions and by stumps had ensured the Proteas were the only team still with a winning chance.

"It was a tough day, a very long day," New Zealand's Doug Bracewell said. "The wicket flattened out and Smith and Kallis batted very well.

"We're going to have to reassess and start up afresh in the morning and hopefully take some early wickets," he said. "I don't think we're out of the test yet. There are two days to go so plenty of cricket to be played. The first session tomorrow will be the key for us."

Neither Smith or Kallis is likely to count his century among his best in terms of fluency or style. Both made scratchy beginnings, neither was ever so well-established that there was no hope for the New Zealand bowlers and both made slow and anxious progress through the 90s.

But weight has to be given to context and South Africa's difficult position when their partnership began, its dominant position at stumps and the skill and effort necessary to graft runs on a slow and wearing pitch added merit to both innings.

The pitch at the University Oval, though brown, hard and relatively docile, has not been one on which batsman have felt comfortable. South Africa's first innings of 238 contained three half centuries, including Smith's 53 — Hashim Amla made 52 and Jacques Rudolph 52 — but no batsman appeared in total command.

No one reached 50 in New Zealand's first innings of 273: Brendon McCullum made 48, Daniel Vettori 46 and Ross Taylor 44. A cheeky last wicket partnership between Trent Boult (33) and Chris Martin 5 allowed New Zealand to improve its lead from five when it resumed on Friday at 243 for 9 to 35 when it was all out 14 balls later for 273.

Boult hit three sixes and a four to take 22 runs from one Vernon Philander over to inflate New Zealand's lead and to give it a slight upper hand after both teams had batted once. Philander, who had four 50 overnight, finished with tarnished figures of four for 72.

Smith put on 45 for South Africa's first wicket with Alviro Petersen (25) to erase the deficit. But Bracewell removed Petersen and Hashim Amla (2) within four balls in the 12th over and South Africa was teetering at 47 for two when Kallis came to the crease.

Kallis, following Smith's example, dug in and persevered. Smith reached his 32nd half century in tests in a painstaking 163 minutes and Kallis followed him with his 55th test half century from 106 balls. Their century partnership required 216 deliveries.

Right-handed Kallis looked to score on the off-side and played some punishing cover drives, still finding fissures in a 7-2 off-side field.

New Zealand tightened the screws further when both players reached the 90s. Smith went from 91 to 95 with a rare cover-driven four off Boult which also brought up South Africa's 200 after 64 overs. He then progressed in slow fits and starts from 96 to 99 in ones and finally to his century, in 5-1/4 hours from 201 balls, with a single off Vettori.

Kallis spent even longer in traversing the 90s, going from 82 to 94 with a series of well-spaced boundaries, then going from 95 to 99 with a superb drive off Martin in the first over of the second new ball.

He was still 99 when his partnership with Smith was finally broken after producing exactly 200 runs. Smith was bowled by Bracewell, bowling his first over with the new ball, after batting for 363 minutes and facing 234 balls.

Kallis then brought up his century with a single from Martin, which became five with four overthrows, after batting 307 minutes, facing 219 balls and hitting 15 boundaries. More than 80 percent of his runs were scored in front of the wicket.

Jacques Rudolph joined Kallis and was 13 not out at stumps while Bracewell took 3-53 and had an lbw decision against Rudolph overturned after a review of television replays.