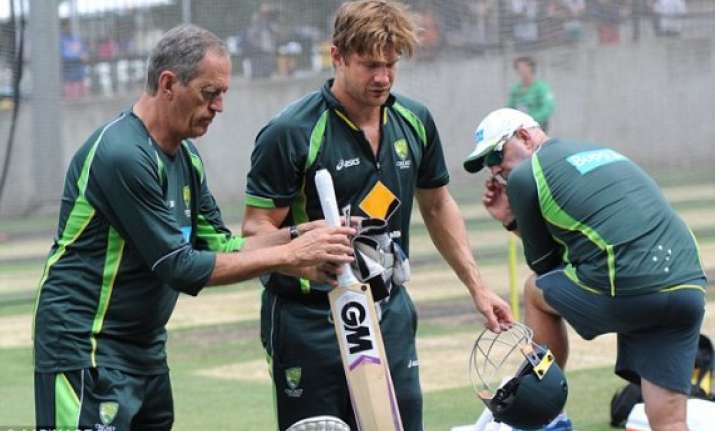 Melbourne: Phillip Hughes' tragic death came back to haunt Australia after star all-rounder Shane Watson was hit on the helmet by a vicious bouncer from pacer James Pattinson during their training session at the Melbourne Cricket Ground here Tuesday.
The 33-year-old was left shaken by the fierce blow to the head and he left the MCG nets following the incident that put an early end to Australia's training session.
Selector Mark Waugh and a Cricket Australia spokeswoman later said that Watson will be monitored for signs of concussion ahead of the Boxing Day Test.
Waugh said Watson was "pretty much OK to start off with, then he felt off-colour back in his hotel room".
"So I believe he's going to have a few tests overnight and we'll see how he comes up in the morning so hopefully he'll be OK to play in the Test match," Waugh told Channel Ten's BBL coverage.
He said the selectors would wait on the results of the tests before deciding whether to call up another all-rounder or batsman to the squad.
Pattinson too looked distressed as he also walked out of the nets even as players and officials walked up to Watson to check on him.
Watson was hit on the helmet when he tried to dodge the bouncer. The impact caused Watson to fall to his knees as he removed his helmet, inspected it and then walked off. He sat with his head in his hands for several minutes before leaving the session with team doctor Peter Brukner, who treated him.
Watson skipped the team's public appearance at the MCG for Cricket Australia's Family Day activities, returning instead to the team hotel.
Vice-captain Brad Haddin later confirmed his teammate had escaped unscathed but did not want to read too much into the incident.
"I had a chat to him - he's a bit shaken, but he's ok. It's just getting hit in the head - he's just a bit shaken," Haddin said.
"He's shaken as anyone would be. I can't really go into any more details because there's no more details to give."
A CA spokeswoman said team doctor Peter Brukner kept an eye on Watson during the day and he "seems fine".
"He (Brukner) will look at him again in the morning just to be sure. As with any knocks to the head, players are monitored by medical staff for signs of concussion," the spokeswoman said.