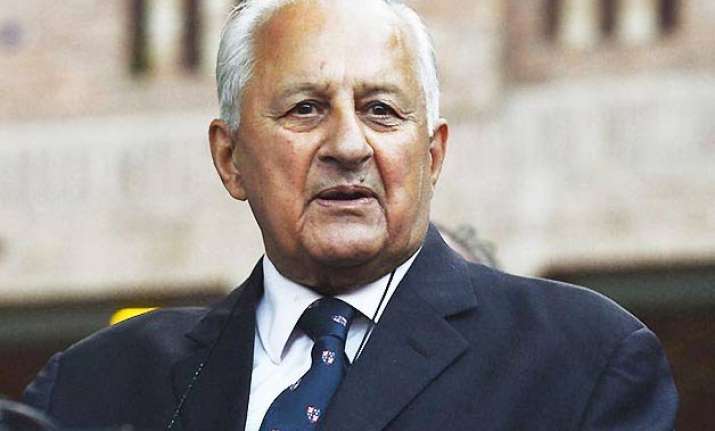 Karachi: Pakistan Cricket Board chairman, Shaharyar Khan has said that the PCB is counting on its Memorandum of Understanding (MOU) with the Indian Cricket Board to be implemented to earn maximum revenues from its sale of media rights.
He also told a news conference in Lahore today after returning from India that he was not given any "Lollipop" by the Indian board with regards to Pakistan hosting India in December as part of the MOU between the two boards.
"There is a slight problem in us trying to sell our media rights for next five years but I feel that as soon as we get green signal to play the series in December from the governments it will be a big help to us in selling the media rights for the right price," Khan said.
The former career diplomat was in India for the last five days to meet with the new Indian cricket chief, Jagmohan Dalmiya and other functionaries of the ruling BJP government to discuss the MOU.
"I went there to get confirmation for the MOU as we have to play the first series in December in Dubai, Sharjah and Abu Dhabi.
"I can say I have come back satisfied with the response I got. There was no Lollipop given to me and only ground realities were discussed. The response from the BJP functionaries like Arun Jaitley and Anurag Thakur whom I met was very good but they need permission from their government," Khan added.
"I will also be meeting with our foreign secretary soon to brief him about my visit to India. But generally speaking the scenario appears to be positive for the series to go ahead on schedule.
"The feeling is there from both sides that sporting exchanges and people to people contact between both countries need to be encouraged."
Khan also said that he had impressed upon the senior BJP leadership i.e Jaitley and Thakur and in a long telephonic conversation with Dalmiya stressed the need for India and Pakistan to resume bilateral cricket ties.
"The Security situation has improved in Pakistan despite incidents taking place from time to time but compare it to four to five years back it has improved a lot we have prepared statistics that security situation is getting better and I informed them about it," he said.
Khan said he had asked Thakur to allow Indian women's team, A or junior teams to visit Pakistan sometime this year as the PCB would provide them full security and also restrict matches to Karachi and Lahore where top security arrangements could be made.
"Thakur said they will consider our request. Once they send their teams this perception about security in Pakistan will also change and open the doors for more teams to come to Pakistan."
Khan noted that it was important for cricket as a global sport to have regular Indo-Pak ties.
He said even the ICC in a report had accepted that Indo-Pak series was more important than the Ashes and should be played as soon as possible.
"This series is very important for us and the cricket world and the feeling I got was that this BJP government is different in its views about relations with Pakistan," Khan said.
He said he had also gone to India as he was aware that the new office bearers and government would like to review the MOU signed with Pakistan to play six series until 2022.
"Dalmiya told me he wants the series to be held but we have also sent him a copy of the MOU for confirmation."
Khan said he was hopeful the series would soon get green light from the governments and Indian board.