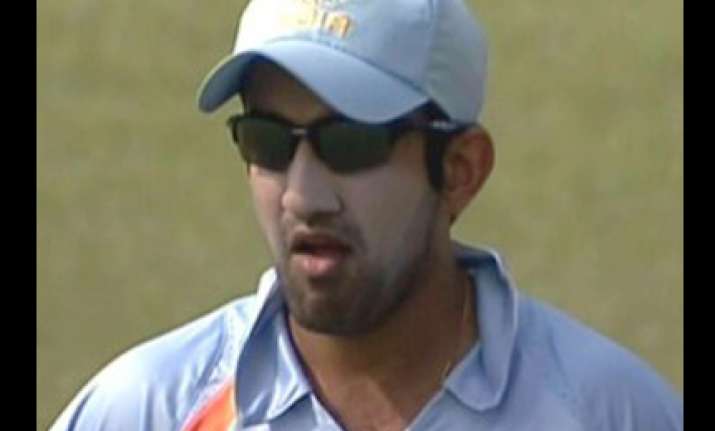 Back in the national team after missing the tri-series in Sri Lanka, India's Gautam Gambhir said his opening partner Virender Sehwag's absence will play in his mind
but he would take the onus to anchor his team in the Champions Trophy.
 "He is a legend of the game and surely you miss him. We have a tremendous rapport, both on and off the field," said Gambhir in  Johannesburg about his Delhi
team-mate who is recovering from a shoulder injury.
"It (Sehwag's absence) does play on your mind. When he is around, he is so destructive that he allows you to be yourself. When he is not around, you try to take up
the responsibility from both ends," he added.
Statistics shows Gambhir is not his usual self when Sehwag is not at the other end. In the Twenty20 World Cup in England this June, where Sehwag was out of fray,
Gambhir could only manage 148 runs from five innings at an average of 29.60.
Sehwag absence means Gambhir will open the innings with batting maestro Sachin Tendulkar and the Delhi left-hander said he is excited to play along side the legend.
"What I watched of Sachin in the finals in Sri Lanka was nothing less than awesome. It would be great to bat alongside him in this trophy."
Gambhir was one of the reserves in the squad when India toured South Africa in 2006 and now he is raring to be the lynchpin of his side and the fact that he has been
nominated for ICC's Cricketer of the Year and Test cricketer of the year award is a motivation enough.
 "It was a fabulous year (the past season). I never thought it would go the way it did and that I would be up for so many awards, including Arjuna Award. How things
change and so quickly," said Gambhir, who has 2594 runs from 78 one-day matches with six hundreds and an average of 37.59.