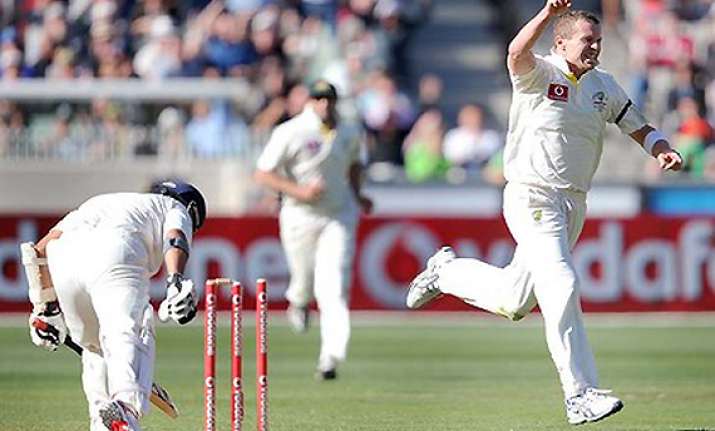 Melbourne, Dec 30: Having claimed the prized wicket of Sachin Tendulkar in both the innings of the first Test at Melbourne, Australia pace spearhead Peter Siddle hopes to nail the iconic batsman again during the Test series.

"Sachin is a big scalp and to get him out is nice. There's a lot more cricket to be played and hopefully I can get him again and keep winning Tests," revealed Siddle.

Tendulkar looked in ominous touch in both the innings of the first Test, scoring 73 and 32, but Siddle struck him down each time as Australia thrashed India by 122 runs to take 1-0 lead in the four-match Test series.

"There's no big secret or plan. Both the dismissals were different. He was bowled in the first innings and caught off a slider in the second. A few good balls before that possibly put pressure on him," he said.

The 27-year-old pacer, who claimed six wickets in the match and scored a vital 41 in the first innings, denied that he tries extra hard when the batsman at the opposite end is Tendulkar.

"He is just another batsman. Be it openers or number 11, you just like to get wicket all the time. This time it was me, next time it could be little Patto (Pattinson) or (Nathan) Lyon," he insisted.

Siddle's first wicket incidentally was also of Tendulkar, back in 2008 and he now has three dismissals of the champion batsman to his name.

Even the spin legend Shane Warne could not do any better during his career.

Siddle said he remembers the second evening when Tendulkar walked out to take the first strike and upper cut his first delivery over slips for a six.

"It was the edge obviously. Jokes apart, it was a good stroke, you can't do much about it. It's a good shot he played, someday he could also edge it to wicketkeeper and on his day carry it over fence for six," he said.

The sturdy Victorian fast bowler needs just three wickets to complete his 100 in Tests. His 97 wickets have come from 28 Tests at an average of 30.78 with four five-wicket hauls.

He also has a hat-trick to his name, against England at Brisbane, on his birthday last year.

Siddle put down the success of Australia's bowling in recent times to the execution of plans that the bowlers are able to do in the middle as a unit.

"It's the pressure we build. You bowl a few short deliveries to build pressure and stop them moving their feet. It paid off but it can go either way. We need to stick together as a bowling unit and build up pressure."

In trying to build pressure, Siddle and Pattinson, in particular appear to go overtly aggressive but the former said everyone in the team knows where to draw the line.

"We are fired up and determined on the field. Like when Dravid was bowled off a no-ball, I was fired up. But we know how far we can go.

"We go out there and play hard and fair. It's just how it comes across. We look to get wickets all the time," he said.

Siddle believed his team had moved on from Hobart and is getting better as a unit.

"We had a disappointment at Hobart. But we are going forward. Batters are also getting there. We are working as a unit. The group is upbeat and comfortable with each other. There's still plenty to come.

"Presently, I am feeling good, strong and healthy. I really had a lot of injuries in the past. The big onus is on me at the moment to try and do things right," he said.

Ben Hilfenhaus, meanwhile, heaped praises on Siddle, especially applauding the Tasmanian fast bowler's ability to build up pressure while running into the wind.

"His consistency with his line and the pressure he builds from the other end is amazing. He bowled into the breeze throughout the match and build up pressure from other end."

Hilfenhaus picked up seven wickets from the match including a fiver in the first innings. He also made 19 and 14 from his two innings.

The teams now head to Sydney where, in all probability, a good grassy wicket will be there to help the hosts yet again.

Aussies, who have included fast bowler Ryan Harris in the 12, could even opt to play with four quick bowlers and drop off-spinner Nathan Lyon.

"The wicket has changed a bit and become better for the bowlers. But we still have to go out and do what we did here. We need to be patient, keep our lines. It has paid off for us in the last few months and we need to continue it.

"He (Lyon) bowled well, he's an attacking bowler. The MCG track didn't help spinners at all. He could take 5-6 wickets in the next innings."