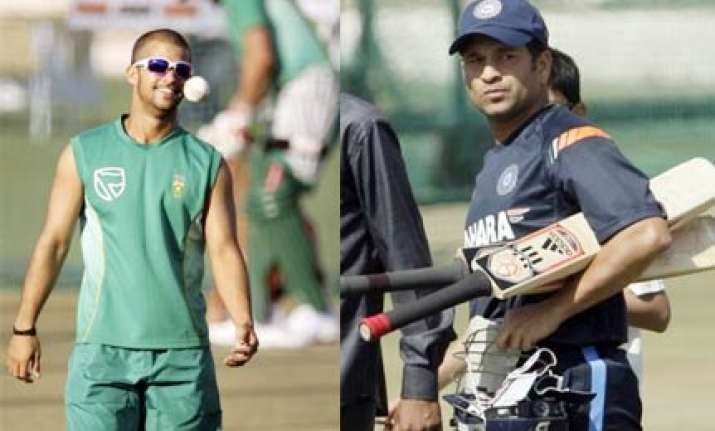 Johannesburg: Captain Sachin Tendulkar has an uncanny ability to inspire his team-mates to perform several notches up and that will make a huge impact on Mumbai Indians' campaign in next month's Champions League Twenty20 in South Africa, feels batsman Jean-Pual Duminy.
Duminy believes that if Tendulkar continues with his menacing form of this year's Indian Premier League, MI will go all the way through.
"He (Tendulkar) obviously leads from the front and that lifts his team-mates. He is very inspiring and exceptional captain. If he fires, others also perform better by another 20 per cent.
"He has been in fine form in the
IPL
and for India. Hope he does the same for us to win this tournament," Duminy said on the sidelines of the launch of Champions League T20 in Johannesburg.
"Sachin helps everybody out and he tries to engage every player. I get along with him very well and had discussions on batting and other cricketing things," said the 26-year-old batsman, who was the inaugural CLT20's top scorer for Cape Cobras but will play for Mumbai Indians this time.
Duminy conceded that the two South African sides - Warriors and Highveld Lions - will have a bit of edge in the tournament as they are playing at home condition.
"I think, they (South African sides) will have a bit of edge. They practice at home ground and prepare according to what they want. IPL teams are in a bit of disadvantage in that they have only four foreigners and they are not playing at home. But in Twenty20 you cannot pick favourites and all the teams here are champion sides of their countries," he said.
"We have a very balanced side with Tendulkar leading from the front followed by the likes of Kieron Pollard and myself. In bowling we have Zaheer Khan and Harbhajan Singh, all big players," he added.
He said the response of the crowd in South Africa will be huge as the top players of the cricketing world are playing in the multi-million dollar tournament.
"For sure, the crowd will fill up the stadiums. They would want to see the likes of Tendulkar, Harbhajan Singh and Zaheer Khan and other big cricketers playing together," he said.
Asked how the crowd would receive him as he is playing for a non-South African side this time, he said, "It will be very interesting to see how the crowd supports me. I don't know what sort of support we are going to get. Unfortunately, I am not playing for my province Cape Town."