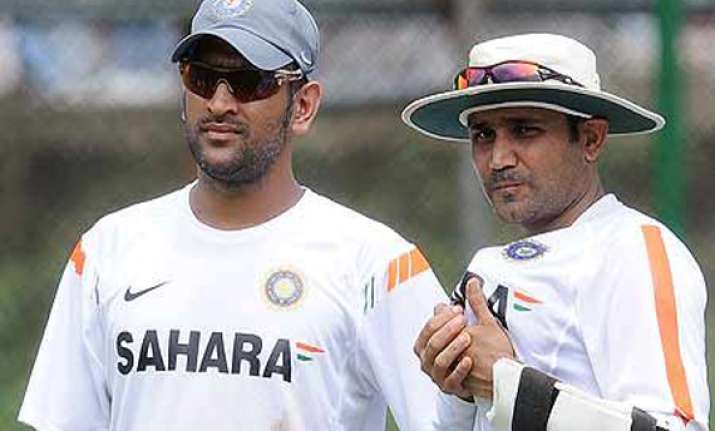 Perth, Jan 10 : A cricket writer Robert Craddock  today reported that there  are allegations of infighting in Team India over the captaincy issue.
 
There are rumours of  a Virender Sehwag-led mutiny against India captain MS Dhoni as former players launch attack on Dhoni's decision to take the players for go-carting instead of a net practice.

The report said, India's campaign of Australia appears to be in tatters with reports suggesting some players are calling for opening batsman Virender Sehwag to replace MS Dhoni as skipper.

Respected News Limited cricket writer Robert Craddock made the claims on Tuesday, saying allegations of in-fighting aren't wide of the mark.

The go-karting exhibition was sure to infuriate former skipper Sunil Gavaskar, who has accused the tourists of being more interested in sightseeing than practising.

But it's Dhoni, described last week by Fox Sports commentator Mark Waugh as a "defensive captain", who is under the most pressure.

"Frenetic opening batsman Virender Sehwag has emerged as the elephant in the Indian dressing room as under-siege coach Duncan Fletcher faces the greatest challenge of his career," Craddock wrote in his column on Tuesday.

"Fletcher, who is 0 and 7 on the road with India, is trying desperately to restore harmony to a squabbling Indian dressing room fractured by the stresses of their capitulation to Australia.

"Sehwag is the man polarising opinions, with some teammates calling for him to replace wicketkeeper MS Dhoni as captain while his detractors are aghast at the lack of fight he has shown in several innings, including his meek second-innings surrender in Sydney when he wafted an airy cut to David Warner from the eighth ball he faced."

Former players have also joined the chorus of detractors questioning the mental and physical state of India's batsmen.

VVS Laxman has come under most pressure, former players Sanjay Manjrekar and Kiran More calling for the veteran to be replaced by the uncapped Rohit Sharma for the third Test, starting on Friday.

Former India all-rounder Ravi Shastri has also supported Sharma, saying India's highly rated top order doesn't have the technique to handle Australia's pace attack.

"Many don't have the back-foot play to ride over the pace, bounce and movement of these tracks. Nor do they have the patience to let deliveries outside off stump go harmlessly to the keeper ... the visitors need to break the mould in which they presently are trapped.

The Aussie players haven't missed out on the opportunity to dig the boot into their opponents either, vice-captain Brad Haddin labelling the tourists a "fragile" side that "break quicker than anyone in the world".

Former Pakistan captain Rashid Latif has even suggested Sachin Tendulkar take counselling to get over the "mental block" caused by the continuing wait for his elusive 100th international century.

As legendary opener Sunil Gavaskar blasted India for their insipid attitude and reluctance to work hard to fight back into the series, MS Dhoni took his men go-karting in Belmont last night.

The players were greeted by some tongue-in-cheek sledging from locals at the Kart World track in Belmont, with one wag having a crack at paceman Ishant Sharma: "Why don't you go learn how to bat and bowl before you go go-karting. It will be three-nil mate."

Sharma responded with a one-fingered salute. India have not trained since losing the second Test in four days but will return to the nets this morning to prepare for a hot reception at the WACA Ground on Friday.

India's indifference to training has infuriated Gavaskar, who demanded to know if the team was more interested in sightseeing or the demands of a tough Test series.

"While on tour they should practise, practise and practise to have a proper frame of mind to be competitive," Gavaskar said.

"The attitude has to be there. You have to go there and practise cricket. Should not a two-day game have been organised in Perth because that's the fastest pitch in Australia."

But Dhoni, a big fan of motor racing, believes the team would be better off focusing on rest and recreation rather than its two four-day losses in the series.

Indian quick Ishant Sharma gives the finger after some tongue-in-cheek sledging from locals. Pic: Sharon Smith/WA News

This is understood to be one of the elements that has led to a falling out with his deputy Virender Sehwag, who has batted with little resolve in the first two Tests.

"You don't want to overdo it," Dhoni said. "There may be a few individuals who want to spend a bit more time on the field but I feel it's always important to switch off in cricket.

"It helps you de-stress a bit and helps you to come back in a positive state of mind. I feel that rather than spending more and more time on the field practising, we need to spend some time off the field in recreational activities and get some time off."

India did the same thing during last year's disastrous tour of England when they responded to the winless visit by driving go-karts in Cardiff on the eve of the final one-dayer. They lost that too.

Mike Hussey, an IPL teammate of Dhoni's at Chennai Superkings, said Dhoni was content to let his players find their own way.

"One of the strengths of MS is that whether things are going very well or very poorly he keeps a level head," Hussey said.

"From my experience at Chennai Superkings, his philosophy is to stay calm, enjoy the experience and play the game with a smile on your face."