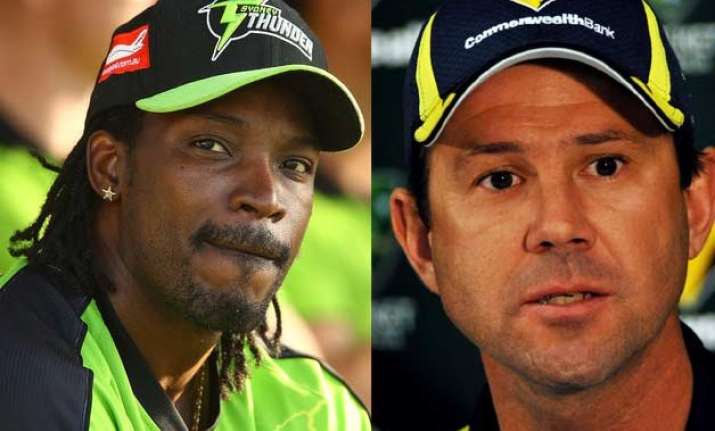 Sydney: West Indies star Chris Gayle was under fire again on Tuesday for his actions in Australia's Big Bash League.
The southpaw was slammed by commentators after he refused to take what appeared to be an easy single for his Melbourne Renegades team against Sydney Thunder late Monday.
Gayle turned back his fellow opening batsman Tom Cooper, who was keen to take a run in a format where one run can mean the difference between a win and loss.
"This is the most unbelievable, ridiculous cricket I've ever seen," said former Australian Test skipper Ricky Ponting.
"Sometimes in cricket and in life you get what you deserve, and he got what he deserved there. What sort of message does that send to the boys on the sideline?"
Gayle was dismissed the next ball when Fawad Ahmed took a catch off Clint McKay. He had scored 28 off 20 balls.
Chris Gayle later declined to be interviewed about the incident after the match.
Gayle recently drew flak from different corners after he attempted to flirt with a Network Ten reporter Mel McLaughlin during an live interview.He was fined USD 7,000 for his approach to McLaughlin last week.