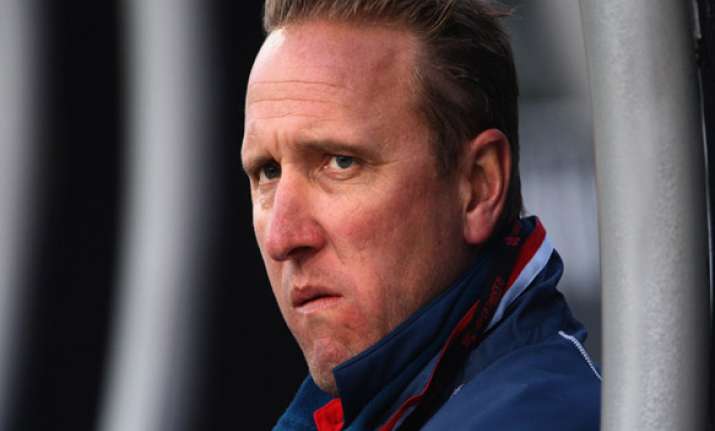 Chennai, Feb 18 :  The sub-continental pitches are the happy hunting ground for the spinners but reverse swing will also play an equally important role in the Cricket World Cup starting on Saturday, New Zealand bowling coach Allan Donald said on Thursday. "We always talked about the ball has to swing. It's not going to do it off the wicket and the ball has to swing. That's where reverse swing is a massive thing and a huge key for me in this World Cup. That's where games are going to be won and lost," Donald told reporters at a press conference here.
"As we go along, bowlers should be able to reverse the ball at the end like doing it both over and round the wickets. These (Kiwi bowlers) guys are still learning it we are trying to do it as quickly as we can. But in crucial games like this, India have shown us last night if you are slightly off themark and you are going to get punished like what Dhoni did," said the former South African fast bowler.
Donald acknowledged that Indian spinners were in great touch in their two World Cup warm-up games and batsmen of other countries will have to find ways to counter them. "Harbhajan Singh and other Indian spinners bowled well in the warm-up games. That's where India probably going to have an upper hand over a a lot of people. A lot of teams must have watched their game against Australia and us. They will have to find a way of conquering the spinners," he said ahead of New Zealand's World Cup match against Kenya on Sunday. "But whether they will play three seamers, I don't know. I don't think they will do so. May be they will go with the three spinners option. We will have to see," he said.
"Obviously Zaheer Khan did not play last night. He is a class act with S Sreesanth. Interesting to see, if they are going to go in with Ashish Nehra. Or they are going to play two or three spinners. That's where I think India is going to strategise well. As soon as they got over the new ball last night which we targeted heavily, the spinners came on."
Asked to comment on Indian batting yesterday in their 117-run win over New Zealand, Donald said, "It was brilliant batting. Dhoni was exceptional last night. Let us give him that credit. Raina supported him well. Dhoni on his day is like that is almost unstoppable when he is in that mood. I will be the first one to say we did not execute well." On the mental preparations to be successful on the sub-continental pitches, Donald said, "It is going to be hot in all three countries where the matches are scheduled. You got to be fit and strong. Mentally, that is where the game is pretty much won. Obviously you need to be up with yours skills to be able to execute that." PTI