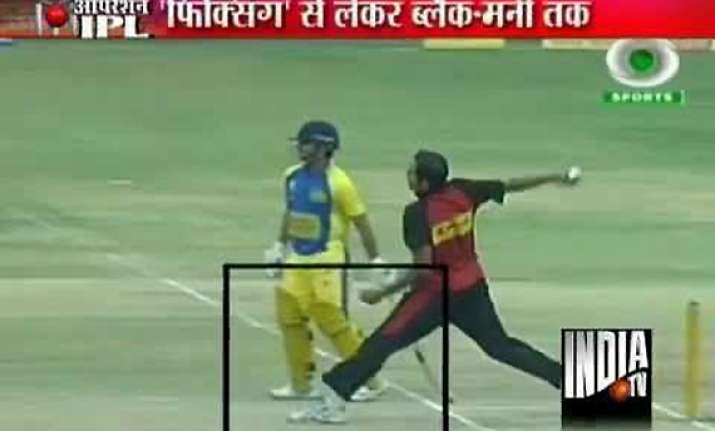 Mumbai, Jun 12: The enquiry report of India TV sting operation conducted during IPL season five has been received by the BCCI and it will be referred to the Board's disciplinary panel, IPL chief Rajiv Shukla said here today.
"Ravi Sawani, the enquiry commissioner, has submitted his report on TV sting operation to the BCCI president (N Srinivasan). As per the procedure, that report is being referred to the disciplinary committee of the BCCI. It will consider the recommendations of Ravi Sawani," Shukla said after the IPL's governing council meeting here today.
Five uncapped Indian cricketers were caught indulging in corrupt practices by India TV channel which conducted a sting operation during this year's IPL.
The BCCI, while suspending the concerned players, had also asked its Anti-Corruption Unit chief Sawani to conduct a probe in the matter.
Sawani has completed the probe and submitted his report to Board president Srinivasan.
"Now that the President has received the report, he will be referring it to the disciplinary committee," he added.
The three-member disciplinary panel comprises Srinivasan and two BCCI vice-presidents Arun Jaitley and Niranjan Shah.
Meanwhile, Shukla was upbeat about the "huge success of IPL V" that ended on May 27 with Kolkata Knight Riders becoming the new champions after defeating last year's winners Chennai Super Kings in the final at the latter's backyard.
He claimed that IPL V was viewed by more people than last year's ICC Cricket World Cup that ended with India lifting the coveted 5O-over trophy after 28 years.
"IPL V was a huge success. The figures we have got say that nearly 2.55 billion viewers have seen IPL V. It's more than those who watched ICC World Cup (2011). This figure is very near to world's top 1 or 2 tournaments which includes the FIFA World Cup. I am talking only about the Indian viewership. There was also a jump of 55 per cent in internet viewership," he said.