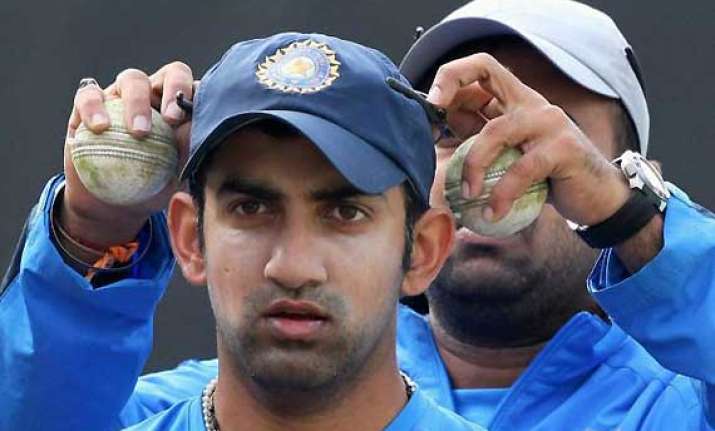 New Delhi, June 1: Having led Kolkata Knight Riders to the Indian Premier League triumph, Gautam Gambhir on Friday said that he is ready to captain the Indian Test side.
Asked if he was ready to lead the Test side, Gambhir said, "Absolutely, it is the biggest honour. I am ready for it. Ready for the responsibility of the challenge because you want to take different challenges as well. That's where your mental toughness and character will be tested."
"I have heard of the talks (of he being made India captain) but as I have said a captain is as good as the team. It's a successful team that makes a successful captain and not that a successful captain makes a successful team," he said.
Gambhir has played 48 Tests and 134 ODIs in his eight-year old international career but said he still feels insecure about being dropped from the national team.
"I am very insecure guy as far as my profession is concerned and my insecurity is far more than my security. Even now to be honest. That's how I played my cricket starting from my Under-14 days, everyone told me if I don't score runs I will be dropped. Since I started playing cricket as a kid I consider every game I played my last game.
"Even at this stage, if I don't score runs in two or three game I start feeling that I am going to be dropped. That has gone so much inside my system that I have started living with it," Gambhir told a news channel.
Surprisingly, he also said that he did not enjoy too much of cricket and the game was just his priority.
"I don't enjoy, to be honest, too much of cricket. For me cricket is something which is my priority. I want to get there and get the best result. One thing which has helped me is that whatever I have gone through I try not to give to other people playing with me. Whenever I led a side I have always tried that my players feel secure.
"It's not about I enjoy or not. Till the time the team is enjoying I am happy with that," he said.
Gambhir admitted that, at times, he had crossed the line of playing with the spirit of the game and has learnt from the mistakes.
"I used to show a lot of emotion on a cricket field but I have mellowed down with age. There were situations when I crossed the line. I remember that incident with Shane Watson (when he elbowed the Australian) and after that I apologised to everyone. I could not have crossed the line and I could not have let my team down because I was in such good form. I have matured and learnt from those mistakes. Life is all about learning from mistakes," he said.
Gambhir also spoke highly about the
IPL
and dismissed the talks of banning the Twenty20 league.
"We have some fantastic close games this year and this shows the quality of cricket in IPL. Lots of matches have gone to the last over. Let us stop criticising IPL. Indian cricket has been fortunate that a lot of players from the IPL have gone on to play for the country and they have done well. We keep on talking about a bigger pool of players considering the amount of cricket we play and the need to rotate. And IPL has given a bigger pool of players," said Gambhir.
Gambhir said IPL or BCCI has nothing to do with the controversies that erupted outside a cricket field.
"You can't blame IPL and BCCI for everything. Whatever happens outside a cricket field no one can control that. It's individual decision what he wants to do. So it's the individual decision whether they want to so at the world stage playing with and against some of the best players on the world or they want to go the other way.
"Franchises will have to control players. IPL or BCCI can't control every player or monitor every player. I think if any player commits a mistake the BCCI should punish the franchise really heavily. The player has also to be penalised severely but at the same time the franchise has to be penalised as well," he said.
Asked what he felt when he had to switch sides from Delhi Daredevils to KKR in 2010, Gambhir said, "That was not my call, which was Delhi's decision. Delhi wanted to retain only one player and that was Viru. They wanted me to go to the auction.
"I have been very lucky to be at KKR because the best two years of my IPL career was with KKR. I have never been so relaxed and I have never enjoyed cricket so much than I enjoyed at KKR."