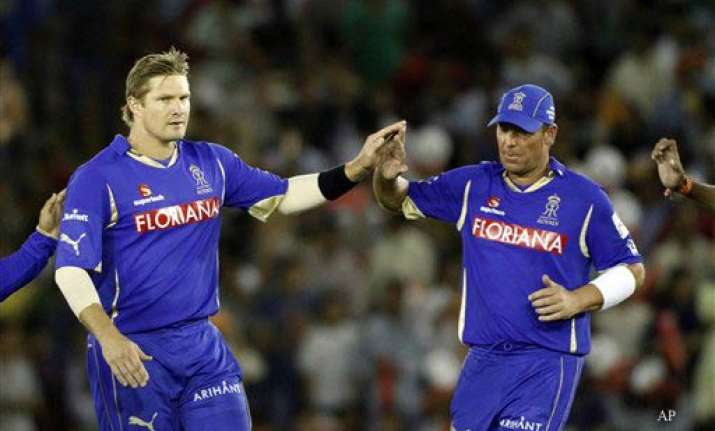 Jaipur, Apr 28 :  After registering a comprehensive victory over Kochi Tuskers Kerala to bring their IPL campaign back on track, a confident Rajasthan Royals team will be eyeing an upset win when they take on table-toppers Mumbai Indians here tomorrow.

It will a clash between the two ageless legends here at the Sawai Mansingh Stadium and it would be interesting to see if the Warne-led Rajasthan Royals could tackle a formidable Mumbai side under Sachin Tendulkar.  Mumbai Indians, who are tagged as hot favourites for this edition of the Indian Premier League, have been able to live up to their reputation by winning all but one of their six matches in the tournament.

The Rajasthan Royals, on the other hand, have had a roller-coaster ride so far. Out of seven they have played, they won three and lost as many, while one match got abandoned due to rain.

Struggling to regain form after losing three games on a trot, Rajasthan Royals, however, managed to notch up a fine victory against the in-form Kochi Tuskers Kerala in their previous match with Warne leading from the front with a three-wicket haul on the home turf.

Tomorrow also they would once again rely on Warne's magic to do the trick for them and expect Shaun Tait, Siddharth Trivedi and Shane Watson to back their skipper with the ball.  In fact, the Royals have mainly achieved their victories in this edition of the IPL by restricting the opponents and chasing down modest targets.

And it is high time that their batting line-up that boosts of Watson, Rahul Dravid, Ross Taylor, Ashok Maneria, fire together and make an impact. Although, the batsmen have shown some firepower but they are yet to win a match for the team as a batting unit.

And if the Rajasthan team wants to put it across the strong Mumbai Indians tomorrow, the batsmen will have to come out as a unit.Johan Botha, who has made significant contribution in two of the team's successful run chase so far, would continue to be their key player.

All in all, the Royals would require to play out of their skins and come good in all departments of the game against a dominant Mumbai Indians.Led by batting maestro Tendulkar, Mumbai's batting has clicked extremely well in this competition. And with the likes of Rohit Sharma, Ambati Rayudu, Andrew Symonds, Kieron Pollard doing their job to perfection, Mumbai should be hoping for a cake-walk tomorrow. PTI