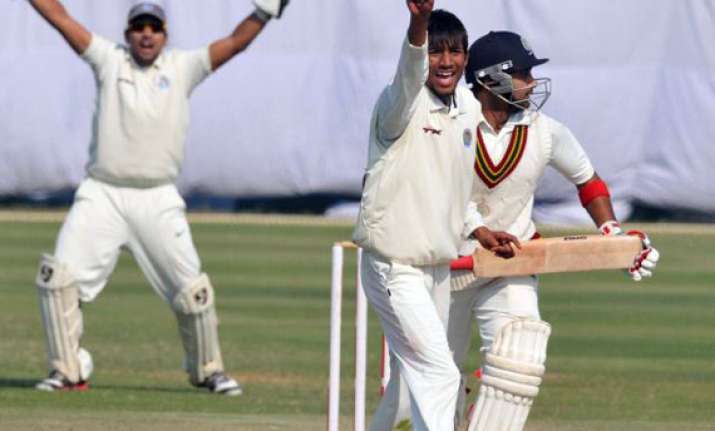 Lahli, Jan 12: Rajasthan today entered the Ranji Trophy final beating Haryana by 64 runs in the semifinal.

Haryana  failed to reach  the target of 185 runs to win. Resuming at 15 for two, the host collapsed for 120 as young Rituraj claimed five wickets for a match aggregate of 12, reports The Hindu.

Sachin Rana offered token resistance to Rajasthan on the third day. His 25, and a 20 by Mohit Sharma, were insufficient to transform the fate of the losers. 

" It has been a long journey and we have emerged a strong team. This victory has greater significance than the Ranji victory for us," said a beaming Rajasthan coach Amit Asawa.
Rajasthan skipper Hrishikesh Kanitkar said:  "We worked towards an objective and took it match by match. We never looked too far ahead and it paid. There are teams who have done much better than us and that is a humbling feeling."

. "We had our chances but blew them away," said Haryana skipper Amit Mishra.

Amidst seamer friendly conditions, Haryana lacked a batsman who could carry the team on his shoulders. "In this context, the innings (of 58) by Vineet Saxena and the 44 by Robin (Bist) become priceless," observed Kanitkar.

Asawa and Kanitkar welcomed the pitch and considered it one of the best for producing quality cricket.

For Rituraj, the match was memorable. At 21, he speaks and reacts far more maturely. "It was a matter of proving oneself and I am glad I could contribute in a win. It is just the beginning. I had to be physically and mentally strong. I was. It was nice that the coach and the captain did not allow me to get carried away.

"I rely more on swing than pace and the conditions here suited me. I follow one thing. Keep doing good things and things fall in place," said Rituraj, the man of the match, and the key to Rajasthan's success in the final.

The scores:

Rajasthan — 1st innings: 89.

Haryana — 1st innings: 97.

Rajasthan — 2nd innings: 192.

Haryana — 2nd innings: Nitin Saini c Kanitkarb Pankaj 23, Rahul Dewan c Yagnikb Rituraj 0, Sunny Singh c Yagnik b Pankaj 1, Harshal Patel c Yagnik b Rituraj 1, Prateek Pawar lbw b Rituraj 6, Sachi Rana lbw b Pankaj 25, Priyank Tehlan b Mathur 9, Amit Mishra c Bisht b Pankaj 10, Jayant Yadav c Puneetb Rituraj 5, Mohit Sharma c Puneet b Rituraj 20, Aashish Hooda (not out) 3, Extras (lb-17) 17, Total (in 48.5 overs) 120.

Fall of wickets: 1-0, 2-1, 3-20, 4-36, 5-55, 6-70, 7-88, 8-95, 9-101.

Rajasthan bowling: Pankaj Singh 21-8-48-4, Rituraj Singh 17.5-4-37-5, Sumit Mathur 10-3-18-1.