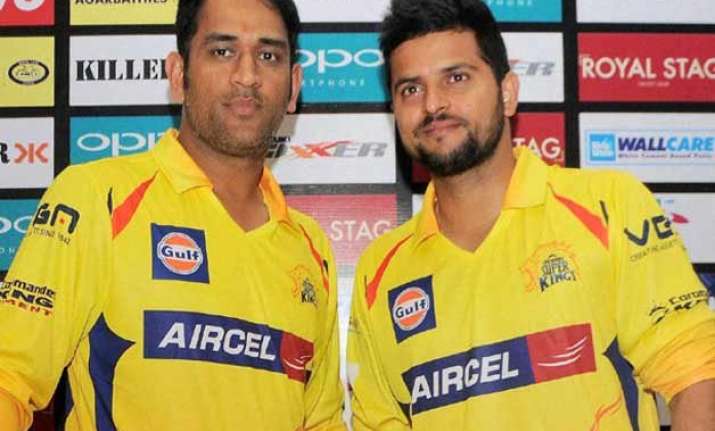 Chennai: Lauding Chennai Super Kings' team effort in today's win against Royal Challengers Bangalore, top-order batsman Suresh Raina credited skipper Mahendra Singh Dhoni's leadership qualities for the side's excellent showing in the IPL cricket tournament. 
Man-of-the-match Raina top-scored with 52 runs as CSK posted 148 for nine in 20 overs and the bowlers combined well to defend the total. The left-handed batsman was pleased with the table-topper's successfully defending a modest score thrice in the competition so far - 150 vs Delhi Daredevils and 134 vs Kolkata Knight Riders. 
"It is overall a team effort whenever you are defending 140 plus. I have been with CSK for eight years. It is about how you remain positive. That is one aspect. I must say that Dhoni led the team very well during the last four games. You must remember that we defended 130-140 earlier on," Raina said in the post-match conference. 
Apart from the seven catches, two good run outs, especially the one against Virat Kohli (48) helped CSK bundle RCB for 124 in 19.4 overs. Dwayne Bravo reacted well to run Kohli out off his own bowling and Raina admitted that it was the turning point in the unsuccessful chase. 
"The run out had set the tone first. We all know Virat is a very good player whenever he has to chase. I would say that run out was very crucial because they were 35 for 2 and suddenly he got out and they were 35 for three and this changed the momentum for us. Yes, they had a very good partnership going, especially Virat. He has won lot of matches for us (India) and when he got out that changed the game for us," said Raina. 
Praising the team's fielding, he said, "It all started from the fielding effort. Whenever a side is fielding well, it is confusing to the batsmen and you tend to give dot balls. Therefore, when your side comes up with good fielding, that gives the team a lot of good games." 
The two-time champions have once again occupied the top spot in the table with 7 wins from 10 matches and Raina, who has contributed with 256 runs, is happy with his and the team's performance so far. 
"I had a chat with MS and he was telling me that if you bat well, we have depth and we can score 160 or 170 runs. We had always done that in the past. In getting runs, I was in good shape during the last three four games but not finishing for CSK. That goes to say that I need to stay at the wicket and play my shots later on. 
"I always believe in quality games but I need to read the circumstances and be focused and what you have to do from 8 to 15 overs,, which is crucial part in 20 overs. I think we have done really well as a unit," he said.