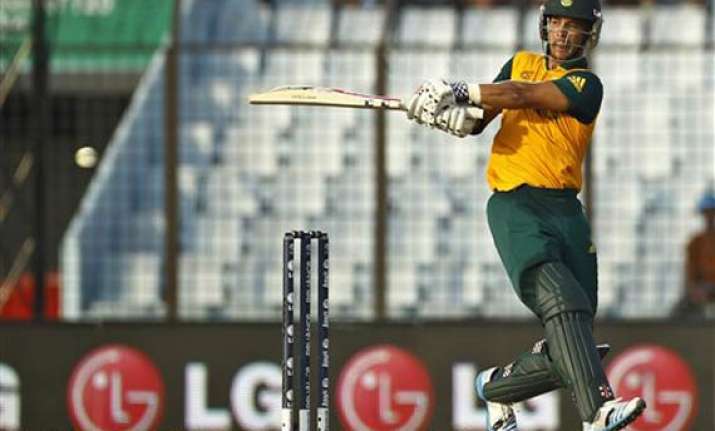 Mirpur: Wary of India's "exceptional" spinners, South Africa are paying a lot of attention in devising a good gameplan against the spin duo of Amit Mishra and R Ashwin ahead of the semifinal clash of the ICC World Twenty20.
South African batsman
JP Duminy
said performing well against the Indian spinners will be a "big challenge".
"Their spinners have bowled exceptionally well. We want to put up a big performance against their spinners. It is a big game. It's the semi-final of a World Cup and it doesn't get bigger than this," Duminy said after a team net session at the BCB Academy nets here.
Duminy, who scored 39 against Sri Lanka and 86 against New Zealand, has the experience of playing alongside Mishra in the
IPL
side Sunrisers Hyderabad. The left-hander said having faced Mishra will certainly help but the job at hand remains tough.
"It's not only me who has played against him (Mishra) but some of the other guys have also played against him. You kind of know what to expect from Mishra. He has been on top form for India in this tournament and definitely, we are not going to take him lightly.
We will certainly do our homework and see to it that our gameplan is in order," he said.
Apart from Duminy, stand-in captain AB de Villiers has also been in good nick but Duminy feels that semi-final will be a new day.
"We have been successful in the last few games but that does not necessarily mean that we will be successful again. We know that their spinners will be key components to their team."
While conceding that India's familiarity with Mirpur will be an advantage of sorts for Mahendra Singh Dhoni and co., the soon to-be 30 Duminy does not think it will have a lot of bearing in the end result.
"I guess it will (familiarity with Mirpur). But it is a new game. No matter what sort of things you have gone through in this tournament, counts for nothing now. Certainly you take a lot of confidence from your wins. But the team that plays better will win."