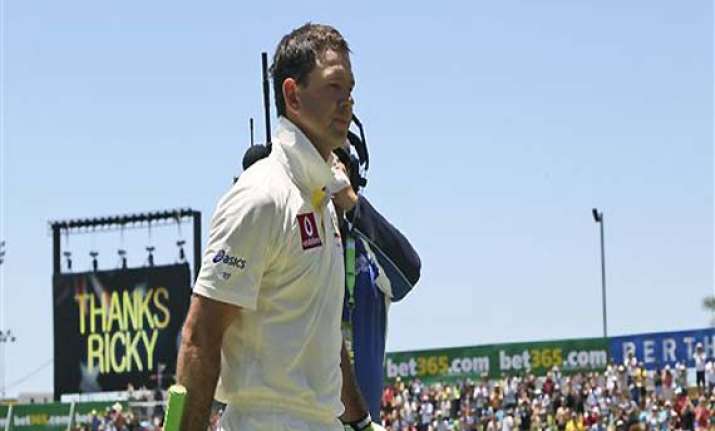 Perth, Dec 3: Ricky Ponting strode to the crease at 11:37 a.m., acknowledging a guard of honor afforded by the South African players on either side of him, and clearly determined to do something special for Australia in his last innings in international cricket.
He faced five balls before getting off the mark with a trademark pull shot to the boundary from Morne Morkel, and the sense in the crowd was palpable: the ex-captain and Australia's leading scorer might just end his recent lean run.
Seven balls later he hit a drive to the boundary, moving to 8 from two scoring shots and showing signs that his footwork was back.
At 12:27 p.m. on Monday, his career in the international arena was over, edging left-arm spinner Robin Peterson to veteran Jacques Kallis at first slip.  
He was out, in the over leading into lunch on the fourth day, with Australia reeling at 102-3 in the improbable pursuit of a record target of 632 to win the third test and reclaim the No. 1 ranking from South Africa.
Ponting accepted the sporting gestures from the South Africans that bookended his innings, stopping to shake hands with skipper Graeme Smith on his way to the crease, and holding himself together to shake hands with every fielder who ran up to him to acknowledge his contribution to the sport before he left the WACA, where his test career began in 1995.
The 37-year-old Ponting faced 23 balls and batted for 40 minutes in his last innings, lifting his career tally to 13,378 test runs at an average of just under 52 in 287 innings.  
His runs total is an Australian record and second only to Sachin Tendulkar. He equaled Steve Waugh's record of 168 test appearances.
The electronic scoreboard flashed up a message "Thanks Ricky" before Ponting took off his helmet and held up both arms to a crowd that had risen to its feet to applaud him.
Michael Clarke, who took over the captaincy when Ponting stepped down last year, gave his old skipper a pat on the back as they crossed in the tunnel between the pavilion and field, then went out and hit the next two balls from Peterson to the boundary.
No team has ever scored more than 418 in the fourth innings to win a test and, with three wickets down and five sessions remaining, the Australian's aren't likely to give Ponting the fairytale finish he craved.