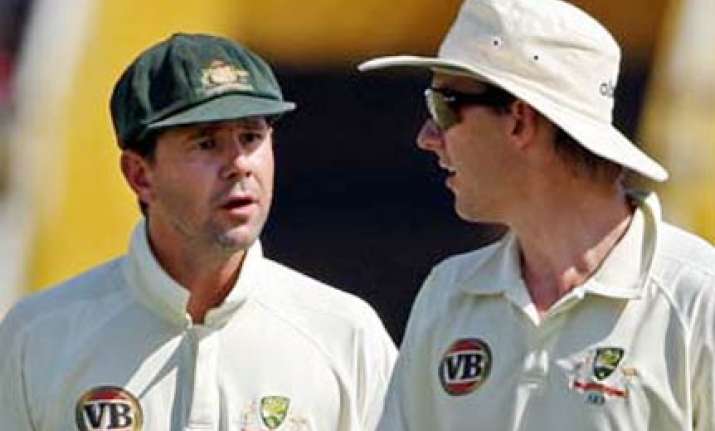 Melbourne: Captain Ricky Ponting considers Brett Lee as a "big player" who, along with pace colleagues Shaun Tait  and Mitchell Johnson, can help Australia  win their fourth consecutive World Cup title.
Plagued by multiple injuries, Lee has not played any one-day international for Australia since last October.
The 33-year-old broke down during a warm-up game of the Twenty20 World Cup in the West Indies earlier this year but has returned successfully to domestic cricket, taking two wickets in a one-day game against Western Australia recently.
Shaun Tait also had to undergo an operation in his arms after the Champions League Twenty20 and Ponting feels it will be great to have the veterans alongside Mitchell Johnson in Australia's World Cup title defence.
"Let's hope he (Lee) is ready to go. He could be a big player for us in the World Cup provided his body holds up between now and then," Ponting was quoted as saying by 'The Australian'.
The World Cup is being hosted by India, Sri Lanka and Bangladesh in February-April and Ponting believes having three bowlers who all can bowl at 145km/h consistently will help Australia's cause.
"Brett, Shaun Tait and Mitchell Johnson together could be key bowlers in those sub continental conditions," he said.
"It would be pretty exciting as a captain to have them to call on. Hopefully, Tait and Lee can both be right."
With 300 ODI wickets to his credit, Lee is the only pacer to have taken more than 100 scalps at a strike rate of below 30 and Ponting said he wasn't worried by Lee's long layoff from the game.
"Brett has always looked after his body well. I know he will be fit and strong. He was last time he came back after a layoff, but unfortunately another part of his body gave way. Still, it will be a big effort," he said.
"It was his first game in a long time, but if he is bowling fast, or anywhere near his peak, he will have a big impact on domestic cricket and the selectors would be forced to have a look at him for the World Cup," he added.
Both Lee and Tait have retired from Test cricket to concentrate on the shorter formats of the game. PTI