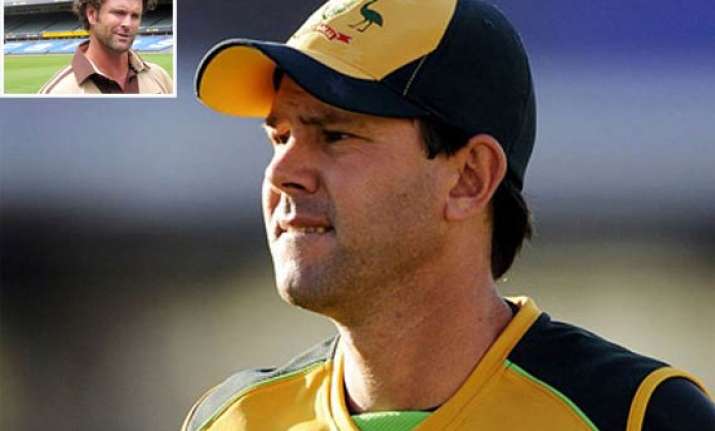 Melbourne, Nov 30: Describing Ricky Ponting as the "elephant in the room", former New Zealand captain Chris Cairns has said that Cricket Australia (CA) needs to end his 16-year long Test career in order to move forward.

"I don't think you can have two years averaging 27 as a No. 3. I think it's his time (to retire)," Cairns said.

"And when you look at the likes of Mark Taylor, (Ian) Healy, Mark Waugh - they were told it was their time. And there's an elephant in the room at the moment in Ricky Ponting that nobody is really addressing," he was quoted as saying by 'Sydney Morning Herald'.

The former Kiwi all-rounder, who retired from Test cricket at the age of 34, also felt that Ponting should himself call it a day after the Hobart Test against New Zealand.

"Don't get me wrong, I've got the utmost respect for Ricky Ponting but there's a time and a place. And for me, his time and place is Hobart in the second Test against New Zealand. That's to say, 'Thanks very much'," insisted Cairns.

He felt that the Australian selectors need to take the hard call on the soon-to-be 37-year-old Ponting.

"Australia for me was an uncompromising cricket nation, but I've felt there's been decisions they make that have been compromising (in) the last couple of years.

"They've allowed Ricky to keep going because of his stature in the game and who he is. But why should he have to make the call? At the end of the day, for me, Australia has always been about the team and what's best. He is behind Bradman, Australia's greatest batsman, so they're managing it," Cairns said.

"But I just think it's an elephant in the room. I really do. Australia has got rebuilding to do."

Even former Australia batsman Mark Waugh also feels that Ponting should be included in the playing XI only on merit and not stature.

"Ricky Ponting is a great player, he's got a few credits in the bank. But, he'll know he has got to score runs. Like any player, you've got to perform," Waugh told the newspaper.

"I think he's invaluable with his experience for the other guys in the team, I think Michael Clarke has said that. But his bottom line is, his job is to score runs. The experience he brings, you can't really count that. He's got to score runs," Waugh added.

Waugh, however, said that Ponting could go on playing for as long as he likes if he starts scoring runs for his team again.

"He hasn't been at his best. I thought there were very good signs in the last Test in Johannesburg that he was getting back to somewhere near his best. But it's going to be up to him - if he makes runs, he can play for as long as he likes. You don't lose your ability overnight.

"I think he's still got a fair bit to give...I think he's just happy he's in the 11," said Waugh.