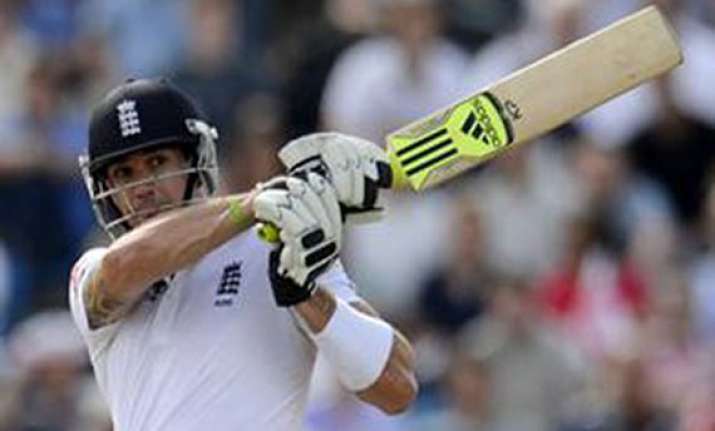 Mumbai, Oct 30 : Kevin Pietersen was selected Monday for England's opening match of its Indian tour, his first for his country since sending derogatory texts to South Africa's players during the test series in August.
Pietersen will bat at No. 4 in the three-day game against India "A" at Brabourne Stadium from Tuesday, the first of three warm-up matches before the four-test series against India begins Nov. 15.
Pietersen was dropped in August for sending text messages that were reportedly critical of former captain Andrew Strauss.His recall comes after conciliatory talks with coach Andy Flower and senior players.
"It's nice to see him back in the team. I'm confident that we'll work well together," Flower said. "He's been playing T20 cricket and it takes a while to get into the rhythm, but he's played here a lot and should get going soon."
Alastair Cook is the new captain on the tour following Strauss' retirement in August after England lost its No. 1 test status to South Africa.
Cook discussed the impact that Pietersen could have on the team.
"It's been a day of recovery for him after a long travel," Cook said. "He's desperate to get going and it's great to have him back. He's got huge sub-continent experience and he will be a big help to the side."
Cook also said England shouldn't underestimate India's second-string team.
"History suggests how hard it is to come to India and win," he said. "Also, these are not warm-up games, they are first-class games."
Cook's team is looking to become the first from England to win a test series in India since 1985.
Selectors for India "A" have failed to pick any well-known spin bowlers, seemingly a tactic to reduce the amount of time England's batsmen will get to face against slow bowling ahead of the test series.
Flower is not perturbed by the lack of spinners, arguing his team's preparations and India's varied strengths are likely to be just as crucial.
"The preparation we've had in United Arab Emirates has given as a good start," Flower said. "Besides, India doesn't just have spinners but some quality seamers.
That's part of our focus as well. We are aware of the challenges ahead of us."Cook agreed with his coach.
"The two teams are fantastic sides with world-class players. Whatever the conditions, the best side will win the series," he said.