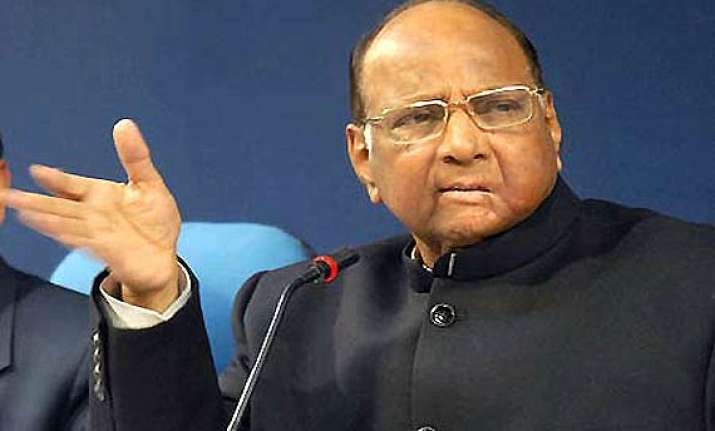 Mumbai: Ex-BCCI chief Sharad Pawar wants Justice J N Patel, who is part of a three-man probe panel set up by the Board to investigate the IPL corruption scandal, to come clean on his reported links with the body's interim President Shivlal Yadav.
He also deprecated the presence of former India captain Ravi Shastri on the inquiry committee, citing conflict of interest.     
"I think Patel should definitely disclose if he isrelated to the BCCI's interim president Shivlal Yadav. If not, then BCCI should clarify and should not allow these type ofdiscussions," Pawar told PTI in an interview.     
The names of the former Chief Justice of the Calcutta High Court, Shastri and ex-CBI director R K Raghavan were approved by the Board members at an emergent working committeemeeting here yesterday.     
Their names would be submitted for approval of the Supreme Court which is hearing the the IPL scandal, with the next hearing scheduled tomorrow.     
The SC had directed the BCCI at the last hearing on April 16 to suggest names of persons who will conduct a "fair probe"into the IPL 6 spot-fixing and betting scandal.     
The apex court is expected to consider the suggestion by the BCCI and pass orders on the future course of the probe.     
"I don't know him (Patel) personally, but I think it is his duty to disclose if this news (information) is correct,"
Pawar said.     
"This morning, I got a call from some BCCI member that there is a judge J N Patel. I know he was a very upright judge when he was here. He had taken very tough responsibilities and had performed very well.     
"But the issue which I was not aware of. Somebody rang me up from Andhra Pradesh this morning, saying the BCCI's interim president Shivlal Yadav and Patel are close relatives.
Brother-in-law or something like that. I don't know."If the news is correct, then the people will judge.
Generally, I have seen many times (that) a judge, if there is some lawyer who is close to him is there, will immediately
recuse himself from the case," Pawar said.     
"I am sure that knowing fully well Justice Patel's reputation, he will not allow this type of a thing," he added.      
Pawar, a former president of the InternationalCricket Council, also questioned the eligibility of Shastri tobe a member of the probe panel because of the conflict ofinterest issue as the player-turned-commentator has got a financial contract with BCCI.     
"Ravi Shastri is a good player. In fact, when I was BCCIchief (2005-08), we signed a contract with him and Suni Gavaskar. So, he had a financial contract with BCCI. Now, someone says how can a person who has got a financial contract with BCCI, become part of an inquiry committee of BCCI chief," he said.     
"I have no reservation about Shastri's integrity, his honesty. But definitely, anybody can raise the issue. And that is why, a sensible person will try to keep away from this (probe panel)."     
Asked if Shastri should dissociate himself, Pawar said,"He has a financial contract (with BCCI). That is not the case with Patel."