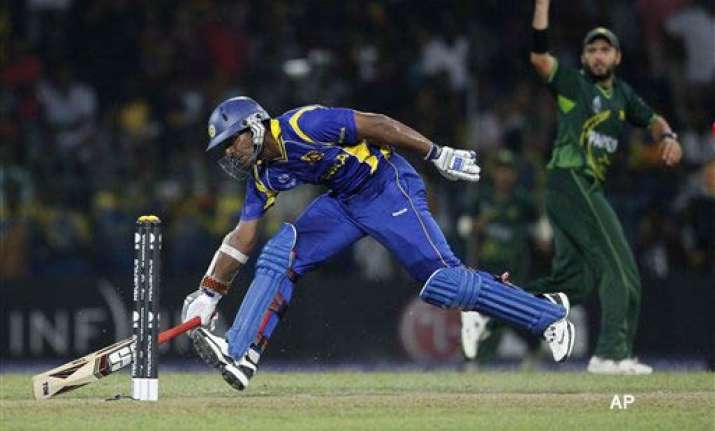 Colombo, Feb 26: Pakistan were hardly taken as a strong World Cup contenders after the recent spot-fixing scandal but Sri Lanka captain Kumar Sangakkara described them as a tough side after they lost to the 1992 champions by 11 runs in a group A match here today.
Sri Lanka are one of the leading contenders to win the World Cup but they failed to break by World Cup jinx after Pakistan batted first and posted 277 runs."They are a tough side. They proved that they have pride in themselves and I thought they played fantastic cricket today," Sangakkara, said.
"We tried to change that (the jinx) today. I am not too sure why that has happened over the years, but there were some critical moments in this game and we couldn't turn those critical moments in our favour," Sangakkara added.
Sangakkara became Shahid Afridi's 300th victim in ODI cricket with the Pakistani captain becoming the third player from his country to reach the milestone after former captains Wasim Akram and Waqar Younis.
"Shoaib (Akthar) getting Mahela and Shahid (Afridi) getting Dilshan were critical moments of the game. Then Chamara (Silva) was a bit slow off the blocks, but he gained momentum towards the end and his finish was excellent," Sangakkara added.Afridi, who picked up five wickets against Canada in Pakistan's opening game, was named Man-of-the-Match for his four for 34.
"I am thrilled with the performance today. I told 280 would be a good total. We knew the ball will swing and it will be tough to bat under lights. Initially our target was 300,but we were happy to get 277. Everyone in the side wants to improve and we try to win every game we play," the Pakistani captain said. PTI