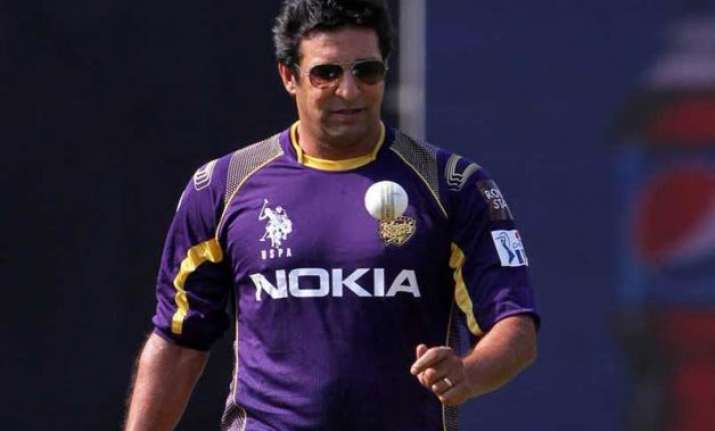 Kolkata: Asserting that the IPL is a great platform for to sharpen skills, legendary pacer Wasim Akram on Tuesday said Pakistan and England were losing out big time with their players not featuring in the cash-rich Twenty20 cricket tournament. 
"Not only IPL benefits players monetarily they also get a chance to sharpen their skills. Playing in front of 50-60,000 crowd obviously gives a massive boost to a cricketer's confidence," the Kolkata Knight Riders bowling consultant told reporters at DPS North Kolkata, here. 
"The batsmen, the bowlers, they get to learn a lot, plus the exposure of playing in front of thousands of spectators. Hopefully Pakistan and England will definitely play in the IPL in the future." 
After a shock exit in the World Cup, Pakistan were routed in the ongoing Bangladesh series losing the ODIS 0-3 and the one-off T20I. 
The former left-arm pacer also questioned the PCB's policy decisions of sacking a player for indiscipline. 
Citing example of Umar Akmal during the World Cup, he said: "Whenever the team doesn't do well, we sack the players. How come we drop Umar Akmal, how can we drop Ahmed Shehzad? They are young and the PCB has invested in these boys for the last 10 years." 
He said it's the coach's job to bring about discipline in the team. 
"As a coach my job is to maintain discipline and not to drop them. That's why Pakistan cricket is suffering." 
Seated beside former India captain and World Cup winner Dilip Vengsarkar, Akram was asked whether he's ready to coach India. 
Vengsarkar welcomed the move saying: "It's a great suggestion. He can inculcate the positive attitude and he knows the tricks of the trade very well." 
However the KKR bowling mentor, who has recently become a dad to a little girl, seemed not interested at the moment. 
"At a tender age of 49, I don't want to leave my family for so long...It's a very stressful job and I am happy with Kolkata." 
"As of taking up coaching of the Pakistani team, first of all they will have to make the offer. They haven't asked me yet.