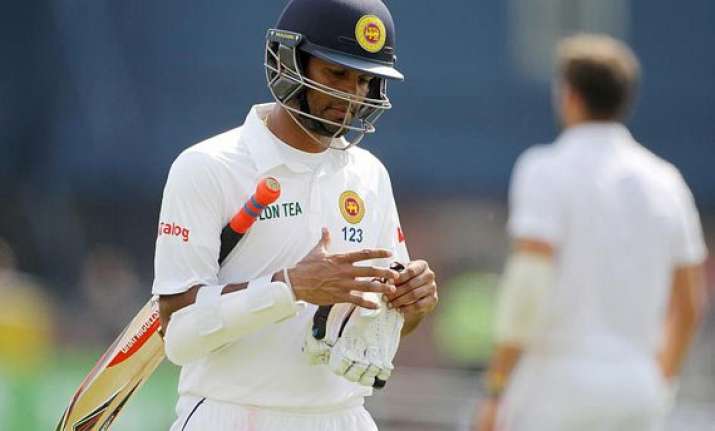 Christchurch, New Zealand: Dimuth Karunaratne scored a maiden test century and carried his bat through most of the third day Sunday to guide Sri Lanka's dogged fightback into the first test against New Zealand.
Karunaratne, in his 13th test, was bowled by Trent Boult for 152 just before stumps after batting more than eight hours to guide Sri Lanka to 293-5 following on its second innings, edging within 10 runs of making New Zealand bat again.
Captain Angelo Mathews was 53 not out at stumps — his second half century of the match.
Boult's dismissal of Karunaratne and Niroshan Dickwella in the last half hour ensured New Zealand retained the upper hand
Boult finished the day with 3-58, to go with his 3-25 in the first innings. He and Tim Southee found considerable swing, even with the older ball, and ended the day bowling to an aggressive field setting of four slips and three gullies.
"We deserved a couple (of wickets) towards the end there," Southee said. "We bowled pretty well all day on a pretty good surface.
"It's a lot nicer coming back tomorrow knowing we only need five (wickets), rather than six or seven."
Having been bowled out in its first innings for just 138 in reply to New Zealand's 441, Sri Lanka needed a greater show of resolve from its batsmen and got that in the shape of Karunaratne, who shared partnerships of 85 with Kaushal Silva (33) for the first wicket, 87 with Lahiru Thirmanne (24) for the third and 97 with Mathews for the fourth.
"He dug in and took his time and played well in the end," Southee said. "We bowled well and a lot of balls went past the bat and kept us in the game.
"It shows the patience we show and, as a bowling unit, how we know how to hang tough and hang in there for long periods."
Karunaratne lost overnight partner Silva in the first over Sunday and veteran Kumar Sangakkara only nine runs later.
Thirimanne managed to stick around, taking three hours to score his 25 runs but providing much-needed support to Karunaratne through 45 overs.
Sangakkara started his 129th test with 11,988 runs — needing 12 more to become the fifth player in history to scored 12,000 runs in tests. He was out for six in the first innings and his failure in the second left that milestone still just out of reach.
Sangakkara will end 2014 with 1,493 runs in tests at an average of 71 and 132 runs short of 3,000 runs in all forms of the game in the calendar year, during which he has averaged 50.