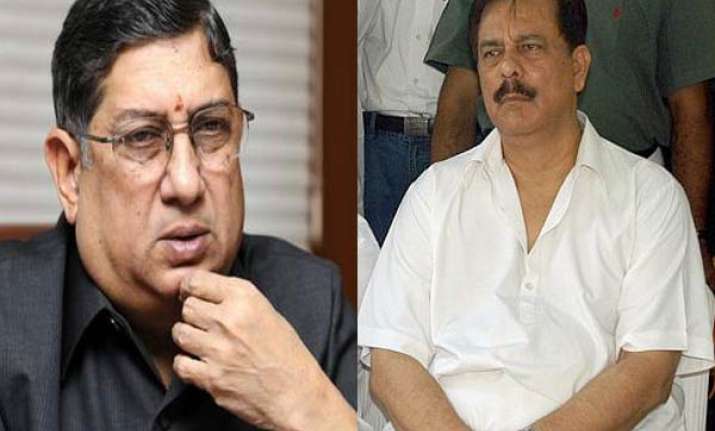 Mumbai, July 25: Sahara India, the Indian team's main sponsor has shot off an angry letter to BCCI secretary K Srinivasan for failing to provide complimentary tickets for Subroto Roy's family at Lords to watch the first Test between India and England, reports Mumbai Mirror.The BCCI has thus left its chief sponsors, Sahara, "deeply disappointed" as the first Test entered the fifth day. 

Not only did the BCCI fail to organise complimentary passes for Sahara Group chairman Subroto Roy's family at Lords, follow-up phone calls from their office to board secretary N Srinivasan went unanswered.

All of which meant that Subroto Roy's parivar which paid the BCCI a little less than Rs 500 crores to put their name on the team shirts for four years had to then pay for tickets to watch said team being put to the sword by Matt Prior and Stuart Broad.

Sahara's corporate communications chief, Abhijit Sarkar, has now written a strongly worded letter to Srinivasan, expressing their anguish."We are writing to express to you our deep disappointment over the fact that VVIP tickets have not been arranged for the Lords Test Match for the Sahara family which is visiting London", Sarkar writes.

"Despite our repeated efforts to contact your office for the said passes for which I had sent you a mail earlier, nothing has materialised."We are faced with a very piquant situation wherein the Sahara family wants to watch the match, but unfortunately we are unable to provide them anything", he continues.

The letter goes on to point out that the company had never asked for any passes for any international match ever, and reminds Srinivasan of the company's relationship of the last 15 years with BCCI.The VVIP boxes, according to sources, have seen a high presence of people associated with the Indian Premier League, including several marketing agents.

The letter also makes it clear that the lapse could not be blamed on miscommunication, with Sarkar writing that he had spoken to Srinivasan about the request when he had "asked me to call back."

"After that I tried reaching you several times but your phone went unanswered."We had even followed up with Prof Shetty regarding this.In the end our request was of only two-three tickets,which also has not materialised", the letter states.