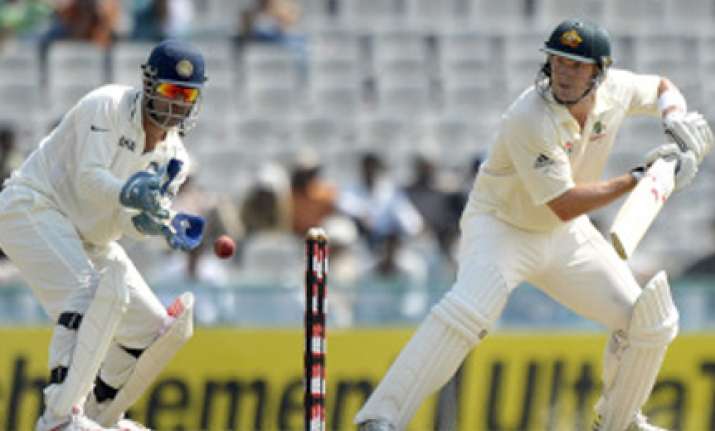 Mohali, Oct 1: Australian opener Shane Watson, who struck a brilliant century against India on the first day of the opening Test here today, said the visitors will need a big partnership tomorrow to put the pressure back on the hosts.
"I think it (game) is evenly poised. From here on it depends on how we set it up tomorrow and key thing would be to get a partnership going," Watson told reporters here at the end of day's play.
After India made a strong comeback in the final session by taking quick wickets, Watson stressed the need for a big partnership. "We need a big partnership and score as many runs as possible, otherwise India could have the advantage" he said.
Watson felt the departure of pacer
Ishant Sharma
due to a knee problem halfway into the day's play, put more pressure on India's other bowlers.
The opener also praised India's bowlers, especially Zaheer Khan, for putting the brakes on Australia's scoring by taking some quick wickets late in the day. "Unfortunately, scoring rate was not what I would have liked and things slowed up after loss of wickets," he said, adding, "Indian bowlers did very well and you've got to give them the credit."
"Zaheer is a very, very skillful bowler, who has this great ability to reverse swing the ball," he said.
Asked to compare today's knock with his first Test ton, the Aussie all-rounder rated this one higher as "it came on different conditions".
"My goal has been to bat through the day in Test cricket and scoring runs by playing the balls on their merit," Watson said. On the track, he said "it was a bit of a surprise" as the wicket played a bit slow unlike traditional Mohali wickets.
On missed catches -- Virender Sehwag dropped the Australian on the second ball of the match -- Watson said he was lucky and that encouraged him to make the most of it.
The opener also rued Ricky Ponting's dismissal at a time when he was looking good for a big one. "That was unfortunate" he said of his skipper's dismissal. PTI