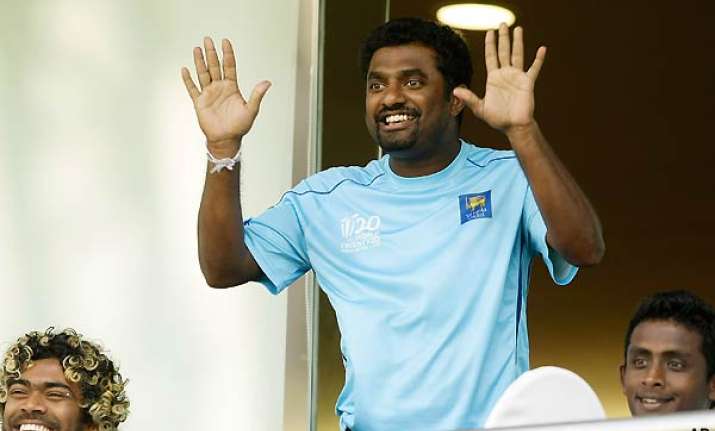 Mumbai, April 1 : As all eyes are on the legendary Sri Lankan spinner Mutthiah Muralitharan in the World Cup final, the player himself is worried more about his family and friends, trying to cadge passes from all and sundry, says a Mumbai Mirror report.
 
Two days before what will be his last international match, Murali was seen at the Wankhede Stadium desperately trying, like the rest of the city, to cajole officials into giving him passes for his family and friends.
 
Dressed in a light blue practice t-shirt, Murali, who did not turn his arm over in the nets due to knee and hamstring injuries, was shouting from the first-floor balcony at every recognisable  face, asking them if they could spare any tickets for him.
 
Murali's wife Madhimalar Ramamurthy is from Chennai, and he's obviously expecting a large contingent of in-laws to come watch him bowl one last time, in his third World Cup final.

Among the notable people he accosted on Thursday were Aravinda de Silva, his former team mate who is now Sri Lanka's chief selector. Murali asked Aravinda if he could use his good offices to source some passes and, having secured the promise that he would try, turned his attention to former South African wicket-keeper Dave Richardson, who is the ICC's General Manager (Cricket).

Richardson was walking past the Sri Lankan dressing room when Murali, with a apple in his hand, leaned over from the dressing-room gallery, to make his request. Richardson, too, told the 39-year-old off-spinner that he would do his best.

"He has a lot of friends, but it's not a big deal. His Mom and Dad are flying down for the match from Sri Lanka," team manager Brian Thomas told Mumbai Mirror.

The teams get 125 passes each from the ICC for every match, and sources say Murali has already cornered a chunk of them from his team mates.

Tickets for Saturday's final have become the most sought after commodity this week in Mumbai, and the rest of the country.

With the 4,000 made available for the general public sold out within hours, the clamour has resulted in the 'unofficial' rate touching Rs 1 lakh.

Two MCA officials are already in the dock for trying to sell complimentary passes for India's group matches.

A source told Mumbai Mirror that Congress general secretary Rahul Gandhi is coming to town to watch the match, armed with a ticket for the general stands rather than one of the boxes reserved for VIPs.