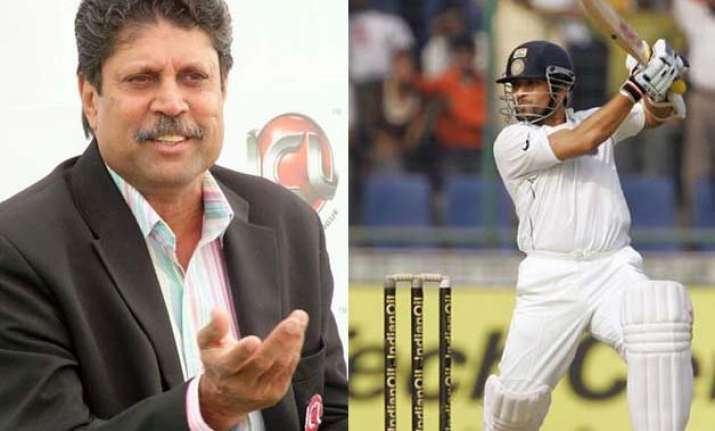 Mumbai: Legendary allrounder Kapil Dev dropped a bombshell at an event in Dubai by claiming that Sachin Tendulkar did not know how to make 200s, 300s or 400s.
Kapil added that the Mumbai school of cricket was responsible for Sachin's shortcomings.
While Sachin himself has not reacted so far, former Indian cricketers from Mumbai have slammed Kapil for his comments.
Former Indian captain, Ajit Wadekar, said that the dislike of Mumbai cricketers by players from Northern India goes back a long way, according to a report in Mid Day.
"Yes, in a way, I can sense that dislike. I have been experiencing it since my University cricket days. A lot of Northern players disliked us. They enjoyed staying in Mumbai, but not playing against Mumbai," said Wadekar who was the captain when India won their first Test series in West Indies and England.
"In the final analysis, Sachin scored the maximum runs and is a true legend, and where Mumbai cricket is concerned, - we always - everyone including Sachin and Sunil Gavaskar - played for the team and not for ourselves. That's why we won the Ranji Trophy 40 times. We knew how to win," declared Wadekar.
Former Mumbai and India fast bowler Raju Kulkarni was also upset by Kapil's remarks. "I find Kapil's comments absurd. It's also very unfair to Sachin and Mumbai cricket. He's talking about centuries of a man who has scored 100 international tons. We were brought up with our seniors telling us that when you get a hundred, go on and get a double and a triple, but don't give your wicket away," he said.
Kulkarni, who made his Test debut under Kapil's captaincy, also disagreed with Kapil's view that Mumbai cricketers were not encouraged to make big hundreds. "I was at a function recently where Sunil Gavaskar was talking to a group of ex-cricketers. When he saw Chandrakant Pandit (Mumbai coach) leaving the room, Sunil left the conversation and went up to Chandu. I overhead him telling Chandu that Mumbai batsman Shreyas Iyer should look to get 200 after his 100 and if he can't get 300, he should not get out. That's the kind of cricket upbringing we had," he added.
Another former India captain, Dilip Vengsarkar, said: "That's his (Kapil's) opinion. What can one say?"
Kapil's statement is not entirely correct. It is true that Sachin did not make a triple century or a quadruple century in Tests or even first class cricket. But he scored six double tons in Tests. Only five other batsmen in Test history have made more.  
Sachin was also the first batsman to hit a double century in ODIs.