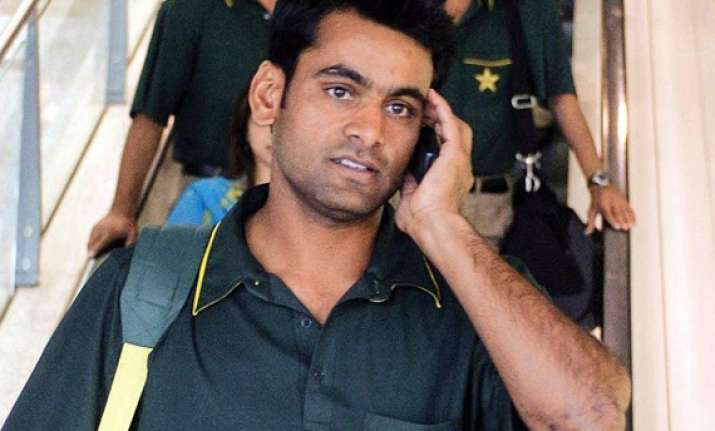 Lahore, Jun 28: Pakistan Twenty20 skipper Mohammad Hafeez, who also led the team in the first Test against Sri Lanka in Galle, is facing an uphill task to save his place in the national side.
Sources in the team said that while Hafeez, who was only recently named the national team's T20 skipper in place of Misbah-ul-Haq, enjoyed the full backing of coach Dav Whatmore but a whispering campaign had started against him in the team because of his poor form.
"When Misbah was banned for slow over-rate after the first Test there was some debate on whether Hafeez was in form to lead the side but since Younis Khan was also struggling with the bat eventually he got the job but failed to impress," a source said.
After a successful performance in 2011, Hafeez has averaged only 9.20 and scored 47 runs in five T20 games this year, while his bowling has also fetched him just three wickets at an average of 32.
Sources claimed that the decision to make Hafeez the T20 captain is now being questioned by many as he has a batting average of just 19 from as many as 31 Twenty20 matches.
Hafeez has also struggled in ODIs scoring at an average of 26 in 14 matches, including a hundred against India in the Asia Cup. In his last six ODIs he has scored just 91 runs.
Even in the bowling department in ODIs, he has taken just eight wickets at average of 46.77 this year.
While in four Tests this year, he has scored just one fifty in eight innings and taken eight wickets.
Former Pakistan Test captain, Aamir Sohail said he had also never supported the decision to change the captain but felt that Hafeez could overcome his poor form by a simple adjustment in his batting technique.
"He is not playing on the backfoot as much as he should and that is why he is getting out cheaply so frequently. Once he makes this minor adjustment to his footwork he can score again," Sohail said. "I am surprised that no one in the coaching staff has yet been able to clear this minor problem in Hafeez's footwork.
Sohail, however didn't agree that the pressure of captaincy was affecting Hafeez's form.
Sources informed that the spirit in the team is not the same as it was a few months back when Mohsin Khan was the interim coach and Pakistan whitewashed England in the Test series earlier this year.
"There are minor issues creeping up and there is some disgruntled players around," a source claimed.
Pakistan's team manager, Naved Cheema, however, dismissed talk about problems in the team.
"There are no problems or infighting in the team. Just because we lost the Test does not mean such reports are true. The players are in good spirits and can fightback in the Test series," Cheema insisted.
He also pointed out that lot of umpiring decisions went against Pakistan in the first Test but the behaviour and reaction of Pakistani players was exemplary.
"It is a credit that way they took the bad decisions. I have no intention of reporting anyone nor have I reported anyone to the board," he said.
Meanwhile, even as PCB's decision to appoint Hafeez as the T20 captain has backfired, the Board president, Zaka Ashraf had recently said that there would not be any change in the decision and some more time would be given to the allrounder to prove his worth as skipper.