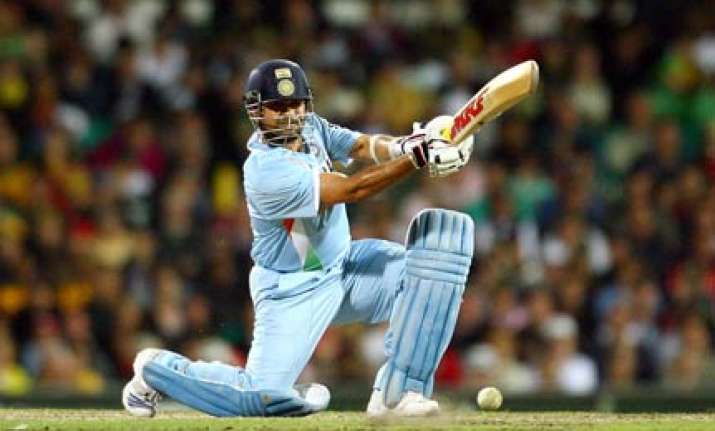 Mumbai, Oct 30: Batting maestro Sachin Tendulkar today said his decision to skip India's last two ODI series, in Sri Lanka and against Australia at home, was not a pre-determined one and he knows how to adjust to various formats of the game.
"The decision to skip the last two ODI series was taken at the last moment and was not pre-decided. My kit always contained coloured pads," Tendulkar said at a media conference to announce his tie-up with Pune-based reality firm Amit Enterprises Housing.
"I have been playing cricket for some time now. If I was not playing cricket there would be something to think about. Having been around for some time, I know how to adjust to the formats," he added.
The 37-year-old batting icon also said he would follow whatever was needed to keep himself in prime condition for the all-important 2011 World Cup in the sub-continent.
"I know my body. I would do whatever is needed for the World Cup and it won't be pre-decided," said Tendulkar, who has often said that he is dreaming of being part of a World Cup-winning team.
Tendulkar would be playing in his sixth World Cup and second in the sub-continent.
"It's tough to talk now about the South Africa series and the World Cup. The focus is on the the Test series against New Zealand (commencing at Ahmedabad on November 4).
"We have got three Tests to play before South Africa. When we go there the focus would be on that. Before the World Cup, there's lot of cricket to be played," Tendulkar said.
He emphasised the importance of keeping the focus on the job closest at hand and maintain the winning momentum going into the mega-event starting on February 19, 2011.
"It's all about focus. We want to focus on the cricket before that. The momentum is important and we would like to keep that momentum."
He also described the recent whitewash of Australia in the Test series as "unbelievable" and praised the winning knock by VVS Laxman at Mohali in the opener, that India won by one wicket, as "terrific".
"It was extremely important. Against Australia, it's always a special series. We have players, who have done terrific things against them. To win 2-0 was unbelievable, especially in the first Test and win from that position. Laxman played a terrific innings. Ishant played well too," he said.
"Even in the second Test, they had scored 475 in the second innings. To win from that position on the fifth day was unbelievable. It was special to have that crowd at Bangalore on all five days," said Tendulkar, who scored a double hundred and an unbeaten half century to lead the team to a seven-wicket victory and a series sweep.
Tendulkar said, while the team had played remarkably well over the last few years, it was equally important to keep up the good work to maintain the top rank.
"What we have been able to achieve as a team in the last few years is remarkable. (We) want to continue doing this. It feels good to be number one, but we want to continue playing well to stay there."
Asked whether he was playing his best cricket ever, a run that has fetched him the ICC Cricketer of the Year Award, the batting genius said he would aim to perform even better. PTI