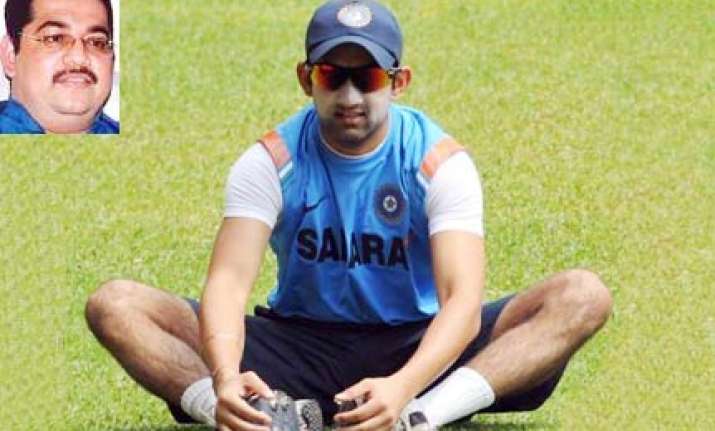 'Miracle doctor' Eliyantha White has treated several Sri Lankan players, while Gautam Gambhir — who returned to the field on Monday — swears the cure works. In fact, White says he can even ensure footballer David Beckham overcomes his Achilles tendon injury to play the World Cup later this summer, reports The Indian Express.
Sri Lankan President Mahinda Rajapaksa's personal physician and spiritual healer claims he uses herbs from the high Himalayas, thick rain forests and from deep inside the sea, besides his inner powers to cure his patients.
White's quick-cure is rapidly gaining popularity among the walking wounded in the Indian Premier League. Days after India and Delhi Daredevils mates Gambhir and Ashish Nehra travelled to Lanka to consult White, the doctor says he has added Mumbai Indians batsman Ambati Rayudu to his list of high-profile cricketer patients — one that already includes Sachin Tendulkar, Sanath Jayasuriya, Lasith Malinga and Tillakaratne Dilshan.
"Because of the high stakes and hectic schedules, cricketers can't afford to sit out nursing an injury for long. I have the fastest and most reliable cure possible," the Sinhalese-speaking White told The Indian Express from Colombo, through his translator-cum-coordinator Ruwan Edirisinghe.
The doctor claimed that Gambhir's hamstring strain and Nehra's rib injury were healed within 48 hours of them being given a special herbal potion. Gambhir, returned to captain the Daredevils against Kolkata Knight Riders at the Kotla on Monday, endorsed the claim. "Before I went for the treatment, I had pain but now it has disappeared," Gambhir said.
While it was Daredevils teammate Dilshan who suggested White to Gambhir and Nehra, Rayudu took the word of his Mumbai Indians senior Jayasuriya and flew to Lanka. "Rayudu had an elbow fracture. A couple of days after the visit he was on the field," said White.
Dilshan, Jayasuriya and Malinga have in the past credited White with their quick recovery from cricket injuries. After returning to action after a long knee injury lay-off last year, Malinga said, "President Rajapaksa introduced me to Dr White. He works with supernatural powers and herbs. I don't know what he does and how he does it but it works. I am very grateful to him and the President."
Tendulkar had visited the doctor late last year, after the series against Australia. "His knee joints were paining because of constant strain on them but he was completely cured. We couldn't treat his elbow problem because Sachin's schedule was too tight. He has promised to return," said White.
The doctor is reluctant to reveal the secret of his healing touch. "A lot of people have asked this question. This is a special formula that is very close to Ayurveda. It has taken me more than 15 years of research to get it right. It requires no surgery and it can cure anything," he said. Coordinator Edirisinghe added to the mystery by saying, "He has inner powers that are difficult to explain. He has even treated patients even without giving any medicines, by just sitting in front of him."
White said he has extended an invitation to Beckham to consult him. "I am willing to help any person in the world coming from anywhere in the world. I am ready to treat Beckham. His condition (Achilles tendon injury) can be easily treated. Within three days he will be playing. It's a very simple case," said White.