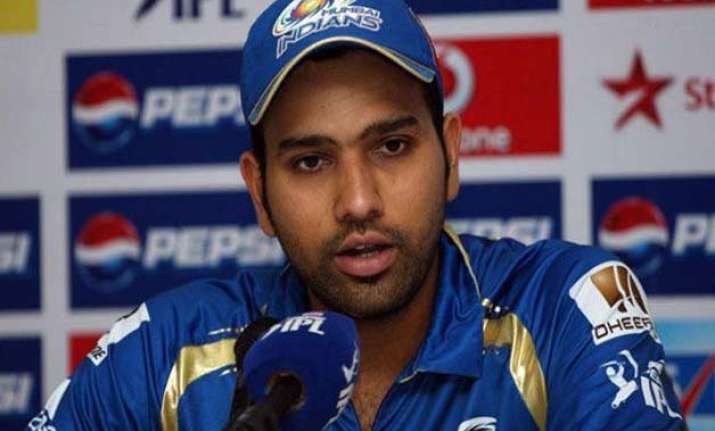 Mumbai: After their third consecutive loss in the Indian Premier League (IPL) campaign, Mumbai Indians skipper Rohit Sharma on Wednesday said the team wants to put the poor start behind and perform well against Chennai Super Kings (CSK) here on Friday.
Mumbai Indians lost to Rajasthan Royals in Ahmedabad by seven wickets on Tuesday before being beaten by Kings XI Punjab at home by 18 runs and by Kolkata Knight Riders in the IPL-8 opener in Kolkata by seven wickets.
"We will next play our home game against Chennai Super Kings. It will be an important game for us. We have to play well against them. We want to forget what has happened in the past three games, take positives out of those games and go ahead," Rohit said at an event here.
"We know that we have lost three matches on the trot. There are few areas where we failed to deliver. We are working on those areas. We need to cross that hurdle which we are failing to do," he said.
The Mumbai batsman said preparations have been good but the team has failed to implement them on the field.
"May be either batting or bowling is no clicking on the particular day. We have prepared ourselves well but we are failing to implement those on the field. Last time we were in the same situation and came out of it. It's about the confidence, boys have to get back their confidence," the 27-year-old said.
Against Rajasthan on Tuesday, the skipper dropped himself three places down the batting order from opener to the number four position.
When asked what was the reason behind the decision, he said, "There is no reason behind going down the order. Just to get the right combination and right balance of the squad it was done."