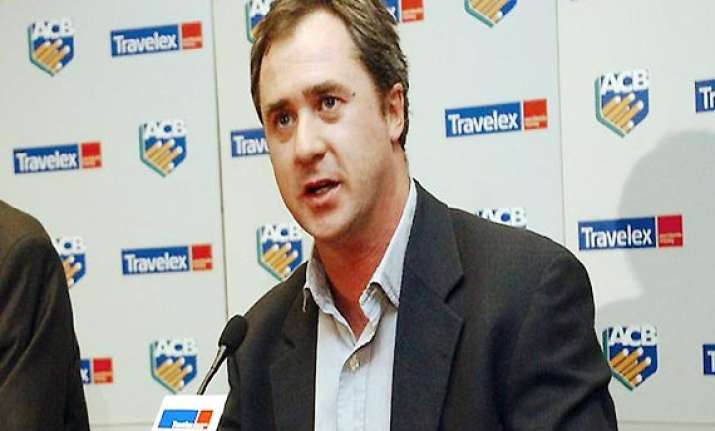 Sydney, June 5: Federation of International Cricketers' Associations (FICA) chief executive Tim May resigned Wednesday and blasted the International Cricket Council (ICC) for its failure to stand up against the big bully in world cricket, India.
In a statement released Wednesday, the Australian announced his resignation from the post of chief executive, a post he held since 2005.
"Cricket increasingly seems to be pushing aside the principles of transparency, accountability, independence and upholding the best interests of the global game, in favour of a system that appears to operate through threats, intimidation and backroom deals," May said in a statement.
May, a former Australian Test cricketer, recently lost his place as a player's representative on the ICC cricket committee to India's Laxman Sivramakrishnan in a re-vote that saw intense lobbying from both sides.
It is alleged that May won the first round convincingly 9-1 but then the Indian criket board reportedly forced the ICC for a re-vote that saw Sivramakrishnan winning the seat.
"Over the past 18 months or so, I came to the realisation that I was tiring of working in a sport that was increasingly at odds with the principles I respect," he said.
May said the ICC was not willing to work with those who question its misuse of power and seek greater transparency.
"The players deserve better. Increasingly, the administrators of the game seek to force out or alienate those who question its alleged misuse of power, or those who seek greater transparency, or provide rational argument against the ills of the administratio," he said.
"It appears that some administrators just don't want to be held to account to the standards that are expected of them... the current system is failing us," he said.
Australian captain Michael Clarke hailed May as a great advocate for players' rights.
"It's difficult to imagine where the players of today would be without Tim May's contribution," Clarke said in a statement.
Ex-Australian captain Ricky Ponting also thanked May for standing up for player's cause.
"Thanks to him, players are now receiving a fair share of the game's revenues," Ponting said in a statement.
May was the Australian Cricketers' Association chief from 1997 until 2005 before becoming FICA's chief executive.