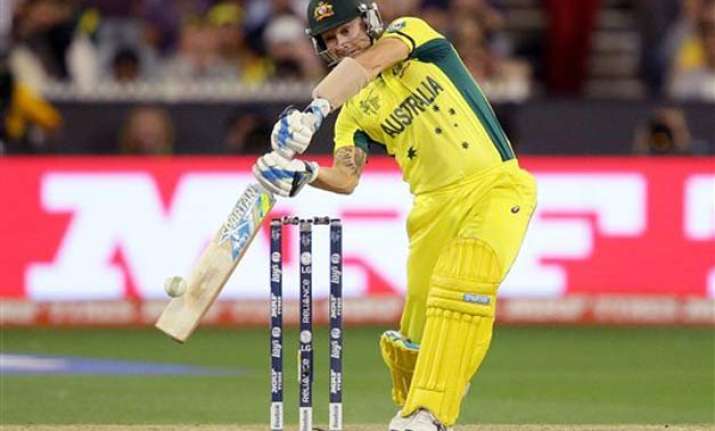 Melbourne:  ICC president N Srinivasan hands over the World Cup trophy to Michael Clarke and the celebrations begin pose for the cameras. Big smile on every single player of the Australian team.
Clarke: 'Obviously I am over the moon. What a tournament. Firstly, to Brendon and his New Zealand team, congratulations on a wonderful tournament. To the Australian fans and all fans, the support we've had is amazing. Then to the team, including the support staff, we have a wonderful bunch of guys. The guys played really well once again. I might give it back to Warnie. It's been an honour and previlage to represent my country in Tests, ODIs and T20Is. The blackband is, you can see PH written on it. I will wear it every game I play for Australia. It's certainly dedicated to Phil Hughes.
Starc: 'Don't know what words to use. Outstanding peformance to cap it off. I've worked really hard at it for a number of months with Craig McDermott. It's a little plan that Craig and I had a couple of days ago, but there was a luck involved. The support from the Australian public and the fans here was fantastic. I am just going to enjoy this one for tonight.'
Mitchell Starc is the Man of the Series and he receives the award from Sachin Tendulkar.
Faulkner: 'It's an amazing feeling, to play in front of 93000 and win a World Cup in amazing. What a performance today. It's been a couple of wonderful years in the Australian ODI outfit. Today it worked out for us, but it can tough sometimes. The physio has looked after me and it's great to be here.'
James Faulkner is the Man of the Match and he receives the award from Sachin Tendulkar.
McCullum: 'It's been one hell of a ride for us. We have played some outstanding cricket and we ran into an oustanding Australian team and they thoroughly deserve to win. To take 7/33 at the end, they put us under a lot of pressure. In the end, we were the second best team on the day. No regrets, this is the greatest stage that you can ask for as a cricketer. We are obviously not able to lift the trophy, but the brand of cricket we have played, we've entertained everyone and we walk away with our heads held high.
This victory certainly is the crowning glory for all  Australian cricketers, who lifted the glittering trophy. New Zealand too can be proud of their performance as they played with a positive mindset throughout the tournament to reach their first final.
Australia win the World Cup final by seven wickets
Australia played  an authoritative cricket by chasing down the target with plenty of overs to spare. It was for the fifth time that they won the World Cup.
Totally dominant performance by Australia
Just three runs require for Australia
Australia on brink of becoming the World Champions  for the record fifth time.
Smith completes another ODI fifty
Melbourne Cricket Ground  is on its feet to applaud Michael Clarke as he walks off the field for one last time in ODIs. Brendon McCullum runs up to Clarke and congratulates him.
Clarke b Matt Henry 74(72)
Hat-trick of boundaries for Clarke, seems he likely to finish the game quickly and become the World Champions
Australia 157/2 after 30 overs
S Smith    47 (63) Clarke    57 (66)
Trent Boult complete his  quota of 10 overs with figures  10.0     0     40     1
"Interesting that in the most successful tournament for batsmen, the final was decided by some incisive bowling first up." As Martin Crowe said a few weeks ago - it would be the bowlers who decided it.
Meanwhile Harbhajan Singh  tweeted "As I mentioned who ever wil win AUS vs IND semis that team will win the cup. Australia doing it in style at MCG"
Clarke, first captain whose last ODI will win him a World Cup.
Fifty for Michael Clarke off 56 balls in his farewell match and in the biggest match of his career. Terrific effort by the retiring skipper.
Australia 130/2 after 25 overs
Steven Smith 34 (51), Michael Clarke 43 (58)
Smith and Clarke have taken their partnership past 50 and Australia are set to create history with 5th World Cup win. They need 54 runs of remaining 25 but as said earlier, it should not be the matter of more than 35 overs or may be 30 as they are batting.
Australia 98/2 after 20 overs
Steven Smith 25 (38), Michael Clarke 21 (31)
Australia are cruising towards the victory. They need to score at the run rate of under 3 and only a miracle can save New Zealand from here. the runs have dried up to an extent after Warner's wicket. Smith is the key here and if the Kiwis can snare his wicket quickly after the drinks break, this match could well turn out to be a thriller. But for now, Australia are in front by a big margin.
Australia 69/2 after 15 overs
Steven Smith 17 (29), Michael Clarke 3 (10)
Australia loses the wicket of David Warner but he has already done the damage with a quickfire 45 off 46. Steven Smith - the man in form is now in the middle with the skipper Michael Clarke who steps in for the last time in colors. McCullum has been using an attacking field with only fielder outside the ring for Clarke as he faces problems with short balls.
Michael Clarke walks in at no. 3. His last outing for Australia in colors.
Australia 63/2
David Warner c Elliott b Henry 45 (46)
OUT! New Zealand get the crucial breakthrough and it's Warner who is gone. It was again short of length from Henry but this time Warner didn't have enough room to free his arms. Elliott runs in from deep square leg and takes a good low catch.
Australia 56/1 after 10 overs
David Warner 39 (36), Steven Smith 13 (19)
Good start by Australia in the final and they are on course of winning their 5th World title. New Zealand have not been benefited with early wicket of Finch and now Smith and Warner are up with a half century partnership. Both the batsmen are playing with open hands.
Australia 33/1 after 5 overs
David Warner 28 (21), Steven Smith 1 (4)
Trent Boult struck early with the wicket of Aaron Finch but despite losing a wicket, Warner and Smith are charging in with some classy drives. Warner smashed Southee for three back-to-back fours and Kiwis are under pressure. It should not be the matter of more than 35 overs from here.
Steven Smith comes in at no. 3
Australia 2/1
Aaron Finch c & b Boult 0 (5)
OUT! This was full and swings back in late, Finch was shuffling across on the flick, closed the face of the bat and gets an inside edge, the ball lobs off the pads and it's a simple return catch to the bowler.
David Warner on strike...two slips and a gully in place
Kiwis are on their fielding positions with Tim Southee having the new ball.
The two openers Aaron Finch and David Warner are walking upto the middle.
The chase is about to begin in moments. Meanwhile Kiwis are seen having some fielding drills.
========================
For New Zealand to lift their maiden World Cup trophy, Trent Boult and Tim Southee need to take strike early and pick up couple of wickets in first 10 overs to put the Aussies under pressure.
The score is the same as the 1983 WC final, but can New Zealand pull off what India did to West Indies? Well, it might be very difficult since the rules and the playing conditions are different now.
James Faulkner took two wickets in the first over of the Powerplay, and Australia were back to being all over them. Brad Haddin might not have looked great with his send-offs, but he was absolutely top class with his glove work. Slip fielding was good, and the outfielders were sensational.
What a top-dog effort from Australia. They have now taken 79 of the 80 wickets available to them.
The Australian bowlers put up a thoroughly professional show to bundle out the opposition for a below par total. In fact, after losing early wickets,Ross Taylor and Grant Elliott soothed the jangling nerves in the New Zealand camp with confident strides and the pair looked set to take them to a competitive total. However, they lost a slew of wickets in the slog overs and ended up with a modest score.
What a performance by Australia. Thoroughly professional and come the big day - in a World Cup final, they are a different beast. A powerful beast that runs over all opposition. We have seen that in 1999. In 2003. In 2007 and again now in 2015.
New Zealand 183 all out after 45 overs
Trent Boult 0 (1)
From 150/4, New Zealand went down to 183 all out in less than 50 overs. A collapse when the innings started with 3 quick wickets then Taylor and Elliott set up a century stand. A mid-innings collapse, which saw New Zealand lose their last seven wickets for only 33 runs in 10 overs, effectively ended their hopes of putting up a respectable total despite semi-final hero Grant Elliott's gutsy innings of 83 off 82 balls.
Tim Southee run out (Maxwell) 11 (11)
OUT! That sums up for New Zealand. Another great direct hit by Glenn Maxwell. He has been excellent on the field in semifinal as well. It was pushed to him at a short mid-wicket position, he fielded and realised that Southee was out of his crease, rifled in a throw and hit direct as his bat has got stuck in the ground. Decision was referred upstairs and it's out!
Trent Boult is the last man in
New Zealand 182/9
Matt Henry c Starc b Johnson 0 (7)
OUT! Low full-toss outside off. Henry drives, but neither gets power behind it nor manages to keep it down. Easy catch for Starc at cover-point.
Matt Henry is in at no. 10
New Zealand 171/8
Grant Elliott c Haddin b Faulkner 83 (82)
OUT! Slower ball does it again for Faulkner. Elliott early into the leg-side swipe and the thick outside edge looped to Haddin.
Tim Southee is in at no. 9
New Zealand 167/7
Daniel Vettori b Johnson 9 (21)
OUT! Bowled him! Beautiful ball by Johnson. Full delivery on leg...finds the gap between the bat and pads of Vettori and hits the bottom of leg stump. Kiwis are falling in a heap.
New Zealand 165/6 after 40 overs
Grant Elliott 78 (74), Daniel Vettori 8 (18)
With Ross Taylor and Grant Elliott stitching a century stand, it seemed like they had laid the platform for New Zealand to notch up a competitive total. Elliott's ability to open the bat face and play cheeky shots through the third man region frustrated the opposition. However, just in the nick of time, James Faulkner struck twice in one over and Mitchell Starc dismissed Luke Ronchi to leave New Zealand in trouble. It is a big game, but for New Zealand to put the opposition under any kind of pressure, they need a score of around 240-250. They scored just 15 runs in 5 overs of batting powerplay and lost 3 wickets.
Daniel Vettori comes in at no. 8
New Zealand 151/6
Luke Ronchi c Clarke b Starc 0 (4)
OUT! Ronchi has flashed at a wide length ball, the edge has flown towards slip, Haddin makes a move towards the catch before leaving it alone for Clarke. So Clarke has done really well to not take his eye off it, and catches it superbly head high.
Luke Ronchi comes in at no. 7
New Zealand 150/5
Corey Anderson b Faulkner 0 (2)
OUT! Another wicket in the powerplay. Faulkner has knocked over Corey Anderson. Full fast and straight on middle, Corey Anderson like McCullum was slow in bringing the bat down. Australia come storming back after a hundred run stand
Corey Anderson walks in at no. 6
New Zealand 150/4
Ross Taylor c Haddin b Faulkner 40 (72)
OUT! they have appealed for a catch at the wicket. Dharmasena has gone to the third umpire with no soft signal this time. This is a slower legcutter, nearly a yorker, really really full. Taylor looks to drive, and the ball lobs to Haddin's right. The umpires check on both counts: bump ball and a clean catch. Replays show the ball has pitched just before hitting Taylor's bat, takes the outside edge, and the edge is soft, dying to Haddin's right. He flies to his right, takes a stunning one-handed catch.
TIME FOR BATTING POWERPLAY
New Zealand 150/3 after 35 overs
Ross Taylor 40 (71), Grant Elliott 72 (69)
Good fight back by the kiwi batsmen. They are now up with a century partnership and looking to score far more than that. Starc bowled a slew of yorkers, but Elliott seemed to have shortened his back-lift a touch to face up to Starc and dug out those yorkers quite well.
New Zealand 121/3 after 30 overs
Ross Taylor 30 (53), Grant Elliott 54 (57)
Grant Elliott backed up his match winning 84 against South Africa in the semis with another half century in the final against Australia. He need to turn his innings into the big one who is certainly good at essaying lofted shots through the off-side. After losing early wickets, the duo has shored up New Zealand's innings. Elliott was given out lbw off Glenn Maxwell, but he went for the review and the decision was overturned as it was missing. Australian bowlers though, kept up the intensity by bowling with good control.
New Zealand 93/3 after 25 overs
Ross Taylor 20 (39), Grant Elliott 39 (41)
New Zealand are slowly recovering from after an early setback. Taylor and Elliott now share a good 54 runs stand in 13 overs but a wicket here and the kiwis may lose the grip from the match. They have batting powerplay coming up at 35th and there's the opportunity when they can go for big shots and try to double the score. They need to score atleast 280-300 which seems to a respectable total from here.
New Zealand 47/3 after 15 overs
Ross Taylor 10 (13), Grant Elliott 4 (7)
Quick strikes have built an early pressure on the Kiwi batsmen. New Zealand are left reeling at /3 after Starc, Johnson and Maxwell have rocked the top order. That's a very lively pitch with good bounce and perfect carry to the keeper. Australia is on fire right from the start. Ross Taylor has played couple of good drives but they need a lot more to recover from this situation and set up a defendable total.
Grant Elliott comes in at no. 5
New Zealand 39/3
Kane Williamson c & b Johnson 12 (33)
OUT! Wicket for Johnson as well. Length delivery to leg stump and Williamson was late to flick and chips the ball back to the bowler. Big wicket!
Ross Taylor comes in at no. 4
New Zealand 33/2
Martin Guptill b Maxwell 15 (34)
OUT! Maxwell strikes 2nd ball! It spun back in from a short of length and cramped Guptill for room, on the punch. Guptill made room and goes for the drive but the bat came down and the misses the ball by long way as the ball clips the top of off. Good bowling change by the skipper.
New Zealand 31/1 after 10 overs
Martin Guptill 14 (31), Kane Williamson 11 (26)
A slight recovery by the Kiwi batsmen after an early strike. Williamson and Guptill have managed to survive the 10 overs and are playing very safe and cautiously. So far only one boundary have been scored by each of the batsman and 1 six by Guptill.
New Zealand 18/1 after 5 overs
Martin Guptill 13 (15), Kane Williamson 1 (12)
New Zealand got off to the worst possible start to the Cricket World Cup final after captain Brendan McCullum was bowled for a duck by Mitchell Starc in the first over. McCullum, regularly the backbone of New Zealand's batting, faced just two balls before swinging at a fullish Starc delivery off the fifth ball of the match to leave his team on 1-1.
Kane Williamson is in at no. 3
New Zealand 1/1
Brendon McCullum b Starc 0 (3)
OUT! Starc has the early wicket and it's the big man Brendon McCullum. He was struggling out there with the swing deliveries. Inswinging fuller length delivery, nearly a yorker, but just a few inches short of that length, Brendon McCullum stood rooted to the crease and was beaten for pace. The bat comes down late. Off stump is set back. Starc goes away on a celebratory run. MCG is on its feet.
Guptill takes the strike and Mitchell Starc to start off the proceedings in the final...here we go....two slips in place and two men around the point region
Australia are in a huddle with some deep discussions going on.
The two openers Brendon McCullum and Martin Guptill are making their way out to the middle.
Just as the teams were getting ready for the anthems, an intruder ran onto the field. The security guards get rid of him quickly.
Both the teams have lined up for their respective national anthems. The flags of all the 14 participating nations are also displayed on the outfield.
Unbeaten New Zealand is playing away from home for the first time in the tournament, and is coming off a next-to-last-ball semifinal win over South Africa in Auckland. It was New Zealand's first win in seven attempts at the World Cup semifinal stage.
Pitch report by Shane Warne: Average score here is 290. Whoever wins the toss will definitely bat first. At night the grass stands up and the quick bowlers get it to zip through. It is absolutely rock-hard. Someone like a Dan Vettori may get a bit of spin.
Australia (Playing XI): Aaron Finch, David Warner, Steven Smith, Michael Clarke(c), Shane Watson, Glenn Maxwell, Brad Haddin(w), James Faulkner, Mitchell Johnson, Mitchell Starc, Josh Hazlewood
New Zealand (Playing XI): Brendon McCullum(c), Martin Guptill, Kane Williamson, Ross Taylor, Grant Elliott, Corey Anderson, Luke Ronchi(w), Daniel Vettori, Tim Southee, Matt Henry, Trent Boult
Both the teams are playing with their winning combination of the semi-finals.
Toss time: New Zealand won the toss and have elected to bat
New Zealand are going with the same winning squad, McCullum said in a press conference on the eve of final.
No rain is predicted for today. It is a warm and sunny day and it will stay that way. So a perfect day and a perfect forecast for the World Cup final.
The two sides have met on 9 occassions in World Cups and Australia won 6 times but New Zealand could only manage to win 3 games.
It was on the same MCG pitch on Feb. 1, 1981 that Australia captain Greg Chappell instructed his brother Trevor to bowl, underarm, the last ball of a one-day international match when New Zealand needed to hit six runs to force a tie. That type of delivery, rolled along the ground, took away any chance that the New Zealand batsman would have any chance of lifting the ball off the pitch and hitting it out of the ground for a six.
Though at least three players on each of the current squads weren't born when the underarm delivery was bowled, and though most of the others were too young to have regarded it with any interest, the incident will still have been inculcated in their collective memory.
Also read: Underarm incident recalled as Australia-NZ prepare for final
That shadow will inevitably fall over the Melbourne Cricket Ground on Sunday when New Zealand and Australia meet in Cricket World Cup final: the incident has become folkloric and is evoked routinely when teams from the nations meet on any significant sporting occasion.
Relations between New Zealand and Australia at a political level have regained their natural cordiality in the 34 years since cricket's notorious "underarm" incident, but in the sporting context memories of the incident have dimmed very little and the shadow it casts is no less.
New Zealand says four-time champion Australia is the favorite as the home team, master of its own conditions and winner of more than two-thirds of all one-day internationals between them.
McCullum writes, "I know you understand the hunger for a World Cup. And I have already seen a wave of support from you guys towards us."
He wrote a letter in which he has sought the support of the Indian fans
Brendon McCullum, ahead of the big final of the World Cup, has asked all the Indian Cricket fans to support New Zealand.
Also read: World Cup 2015 'Grand Finale': Five key players to watch out for
But this current team led by Brendon McCullum has all the ingredients to bag the cricket's ultimate prize as they have proved it with eight successive victories starting from the first match of the tournament against Sri Lanka.
New Zealand, despite having produced a number of world class cricketers over the years, have not tasted any big global success, their closest being in 2000 in Nairobi when they beat India in the ICC Champions Trophy.
Also read: Michael Clarke to retire from ODIs after the World Cup
Home side captain Michael Clarke's retirement from the ODIs after the grand finale will provide a touch of emotion to the Australians who will want to present a 'farewell' gift to their inspirational skipper by lifting the trophy.
New Zealand, who have qualified for the summit clash for the first time in 11 editions, will take on Australia who not only have the highest number of world titles but also would be competing in the final for the seventh time starting from their first in 1975.
Finally the day is here. It's the grand finale between the two co-hosts Australia and New Zealand.